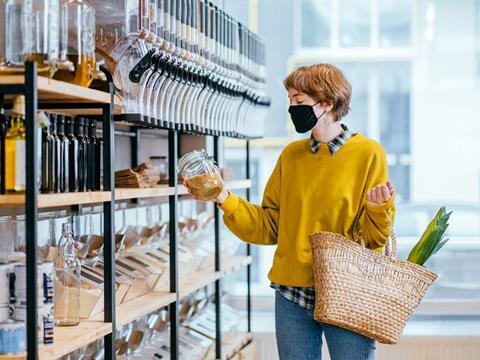 Reusable packaging can be adopted across all sectors
The global food and beverage industry accounts for about 35% of plastic waste and is under tremendous pressure to eliminate plastic packaging. This sector was one of the first to start incorporating reusable packaging in the form of refillable packages.
Consumer packaged goods is another sector at the forefront of the reusable packaging trend, with products being packaged using reusable or fully recyclable materials such as alloys, glass, and engineered plastics. And as other industries recognize the advantages of moving beyond single-use packaging, reusable packaging is set to expand outside the F&B and CPG sectors in the coming years.
Since 80-85% of the healthcare industry's waste is generated from packaging waste, the industry is also currently under the radar. Hospitals are encouraging vendors to reduce or reuse packaging of medical products to minimize environmental waste.
Automotive manufacturers are beginning to opt for returnable packaging for transporting heavy and high-volume auto parts frequently over short distances. For the aerospace industry, plastic corrugated and thermoformed packaging are durable reusable packaging options offering the safe transportation of equipment and parts.
The future of reusable packaging is smarter and more personal
The future of reusable packaging will be driven by trends such as smart packaging and personalized packaging. When joined together with the principles of reusable packaging, these evolving packaging trends, with their focus on enhancing the customer experience, promise to augment the business advantages that come with each of the reusable packaging models mentioned above by incentivizing consumers to keep and reuse containers rather than purchasing items that come in single-use packaging.
Smart packaging incorporates advanced technologies to provide enhanced functionality compared to conventional packaging. Sensors and other microelectronics, smart pigments, IoT connectivity, and innovative security measures can increase the efficiency of delivery by helping to prevent damage, spoilage, misplacement, and theft, thus preventing the need for returns or re-delivery.
European startup LivingPackets partnered with E Ink, a leading innovator of electronic ink technology, to develop the company's next-gen smart reusable packaging solution, the Box. Sensors embedded in the Box allow users to monitor temperature, humidity, pressure, light, motion, and more through a smartphone app.
The Box also has a camera inside that can be accessed with the app as well as a microphone and speaker that allows for communication with the delivery personnel. An electromechanical lock keeps the Box secure from theft. And with E Ink's energy-efficient, on-demand electronic label, addresses and other details can be updated in real-time. Intended for multiple reuse, the Box is made from durable materials, and the interior space is adjustable, eliminating the need for additional materials such as bubble wrap or packing peanuts.
Reusable personalized packaging
With today's consumers looking for ways to connect with products and brands based on their opinions, thoughts, and way of life, companies are investing in innovative containers and packaging that speaks to their customers as individuals using technologies such as digital and 3D printing. Combining these personalization technologies with reusable containers can be a strong incentive for consumers to change their consumption habits to embrace sustainable options.
Nalgene Outdoor is a leader in the reusable container sector, with its sturdy, odor-resistant, leak-proof water bottles that are popular with outdoor enthusiasts. The company offers a wide selection of BPA- and BPS-free products, including their Sustain bottles, which are made from 50% recycled content. All of the company's bottles are customizable, with customers being able to choose from a variety of bottle and cap colors to personalize with uploaded images, text, and stock graphics.
Humanrace is a skincare company created by musician, producer, and entrepreneur Pharrell Williams "in the belief that taking better care of ourselves can teach us to take better care of each other." With a focus on sustainability, social impact, and inclusivity, their Humanrace line of skincare products are made with vegan and cruelty-free ingredients. Moreover, the containers, which feature braille writing for the visually impaired, are made from 50% post-consumer recycled landfill plastic and are designed to be refilled from recyclable cartons.