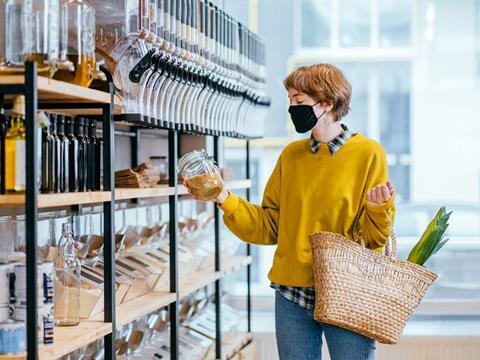 Between recyclable, biodegradable, and reusable, a recent PreScouter report sees reusable packaging as the most promising solution in terms of replacing single-use products. In this comment piece, Marija Jovic, technical director for PreScouter's chemicals, materials and packaging vertical, takes a detailed look at the reuse market as it stands today.
---
Here are 3 companies that are pioneers in creating successful reusable packaging models, whether it be at-home models or on-the-go solutions.
Loop is an initiative from TerraCycle with a vision is to stop the use of linear, single-use packaging and create a circular economy by reusing containers and other receptacles, where consumers receive their trusted brands in durable and reusable packaging.
With the first pilot having started in May 2019, Loop has grown rapidly through partnerships with brands across the globe like Kroger and Walgreens in the United States, Tesco in Great Britain, Carrefour in France, Aeon in Japan, Woolworths in Australia, and Loblaws in Canada.
The Ozzi group is revolutionizing the way we consume our to-go food. Utilizing technology and driven by a sustainable mindset, Ozzi is set to eliminate the disposable containers used for "to-go" food in all segments and has partnered with a larger number of colleges and universities as well as healthcare centers, supermarket food courts, restaurants, the military, and outdoor events.
Wherever food is served in paper, foam, or plastic containers, Ozzi is replacing the disposable containers with reusable containers. The system uses an Ozzi smart drop-off station and reusable food containers that can be used as part of a meal plan or by buying a token. Food is served in a clean, reusable Ozzi container at the counter and is placed in the Ozzi machine to be cleaned after use. The machine then returns the token to be used for the next meal.
The startup Returnity is set to revolutionize shipping and packaging by offering custom-designed bags and packages that can be returned and reused multiple times. Returnity claims their packages are water-resistant, more durable than cardboard, and cost-efficient. From tote bags to duffle bags to makeup bags, they can provide customized solutions for the fabric type, pattern, and imprinting.
Recently, the company partnered with antimicrobial solution developer Polygiene to provide custom packaging coated with antimicrobial ViralOff solution to address current COVID-19-related concerns. Returnity is looking to replace the use of over 6 million cardboard boxes and poly mailer bags with reusable packaging by 2020.
The company was recently named a winner in the Circular Economy Track of the Ocean Plastic Innovation Challenge. Returnity's customers include thredUP, Generation Tux, BOXED, REBAG, and many others. The company is currently working with several prominent brands in apparel, furniture, and even wine.
What are the bottlenecks to the wider adoption of reusable solutions?
Cost and return logistics remain the two major bottlenecks preventing the implementation of reusable packaging across industries. However, for each of these challenges, companies are stepping up to provide an innovative way to overcome them.
Because most financial benefits of reusable packaging come from avoided production, the rate at which a package is replaced is a key element. Savings are not seen immediately, but in the long run. To ensure that the packaging lasts for multiple rounds of product deliveries, it should be durable and made of materials that are more expensive than cheap plastic. This is definitely a concern across industries and stands as a major impediment to adopting other alternatives that can be reused.
However, companies can mitigate this higher packaging material cost by finding innovative ways to sell their products at a lower price point. Blueland, a privately held New York-based startup, has successfully used this approach to lower costs.
Co-founded by a new mom who set out to create a clean home while keeping the planet clean, Blueland recognized that cleaning liquids are 95% water and came up with the idea of selling replaceable nontoxic cleaning tablets that reduce the size and hence the shipping costs considerably.
The company has further reduced costs by focusing on home cleaning products that are usually associated with low brand loyalty and thus are easier for consumers to adopt. This has allowed them to sell their products at a lower price point. These products can be replenished into the long-lasting 100% BPA-free "Forever Bottles" by dissolving in water. A recent report evaluated Blueland's products as innovative, sustainable, effective, and affordable. In 2019, the company raised $3 million from Global Founders Capital and won a decent deal from Shark Tank.
With the intent to participate in sustainable packaging, different sectors are still trying to figure out the most efficient way to handle reverse logistics, which will enable them to engage in returnable packaging options. Because companies have to bear the cost of shipping and handling during the return cycle, they need to efficiently work out the logistics behind this in order to support reusable packaging options.
One approach is to bring refillable containers to consumers where they are at. Started in the Chilean capital, the mission of Algramo is to promote the concepts of reuse, refill, and optimization of reverse logistics. The company places vending machines dispensing its products in some stores, and in others, Algramo stocks products and collects empty containers that are then cleaned and reused.
Algramo, which means "by the gram," combines this return logistics strategy with a lowered product price approach so they can serve the poorer economy in Latin America. The idea is to provide both convenience and affordability, enabling consumers to buy only as much as they need, as opposed to buying in bulk, in refillable containers, with no difference in the price per gram.
Since its launch, the Algramo 1.0 model has expanded to 2,000 stores in Santiago, reaching 350,000 customers. The Algramo 2.0 model relies on brand partnerships, and the company is currently working with Unilever to sell co-branded laundry detergent and dish soap via a dispensing machine mounted on an electric tricycle that delivers at your doorstep into your refillable container.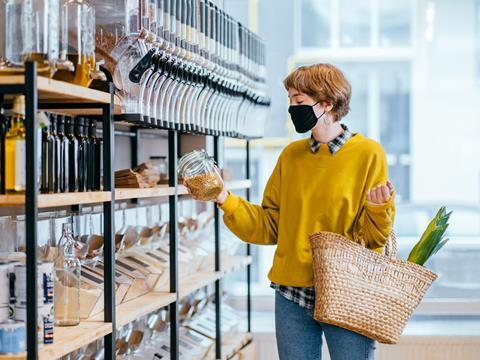 Reusable packaging can be adopted across all sectors
The global food and beverage industry accounts for about 35% of plastic waste and is under tremendous pressure to eliminate plastic packaging. This sector was one of the first to start incorporating reusable packaging in the form of refillable packages.
Consumer packaged goods is another sector at the forefront of the reusable packaging trend, with products being packaged using reusable or fully recyclable materials such as alloys, glass, and engineered plastics. And as other industries recognize the advantages of moving beyond single-use packaging, reusable packaging is set to expand outside the F&B and CPG sectors in the coming years.
Since 80-85% of the healthcare industry's waste is generated from packaging waste, the industry is also currently under the radar. Hospitals are encouraging vendors to reduce or reuse packaging of medical products to minimize environmental waste.
Automotive manufacturers are beginning to opt for returnable packaging for transporting heavy and high-volume auto parts frequently over short distances. For the aerospace industry, plastic corrugated and thermoformed packaging are durable reusable packaging options offering the safe transportation of equipment and parts.
The future of reusable packaging is smarter and more personal
The future of reusable packaging will be driven by trends such as smart packaging and personalized packaging. When joined together with the principles of reusable packaging, these evolving packaging trends, with their focus on enhancing the customer experience, promise to augment the business advantages that come with each of the reusable packaging models mentioned above by incentivizing consumers to keep and reuse containers rather than purchasing items that come in single-use packaging.
Smart packaging incorporates advanced technologies to provide enhanced functionality compared to conventional packaging. Sensors and other microelectronics, smart pigments, IoT connectivity, and innovative security measures can increase the efficiency of delivery by helping to prevent damage, spoilage, misplacement, and theft, thus preventing the need for returns or re-delivery.
European startup LivingPackets partnered with E Ink, a leading innovator of electronic ink technology, to develop the company's next-gen smart reusable packaging solution, the Box. Sensors embedded in the Box allow users to monitor temperature, humidity, pressure, light, motion, and more through a smartphone app.
The Box also has a camera inside that can be accessed with the app as well as a microphone and speaker that allows for communication with the delivery personnel. An electromechanical lock keeps the Box secure from theft. And with E Ink's energy-efficient, on-demand electronic label, addresses and other details can be updated in real-time. Intended for multiple reuse, the Box is made from durable materials, and the interior space is adjustable, eliminating the need for additional materials such as bubble wrap or packing peanuts.
Reusable personalized packaging
With today's consumers looking for ways to connect with products and brands based on their opinions, thoughts, and way of life, companies are investing in innovative containers and packaging that speaks to their customers as individuals using technologies such as digital and 3D printing. Combining these personalization technologies with reusable containers can be a strong incentive for consumers to change their consumption habits to embrace sustainable options.
Nalgene Outdoor is a leader in the reusable container sector, with its sturdy, odor-resistant, leak-proof water bottles that are popular with outdoor enthusiasts. The company offers a wide selection of BPA- and BPS-free products, including their Sustain bottles, which are made from 50% recycled content. All of the company's bottles are customizable, with customers being able to choose from a variety of bottle and cap colors to personalize with uploaded images, text, and stock graphics.
Humanrace is a skincare company created by musician, producer, and entrepreneur Pharrell Williams "in the belief that taking better care of ourselves can teach us to take better care of each other." With a focus on sustainability, social impact, and inclusivity, their Humanrace line of skincare products are made with vegan and cruelty-free ingredients. Moreover, the containers, which feature braille writing for the visually impaired, are made from 50% post-consumer recycled landfill plastic and are designed to be refilled from recyclable cartons.