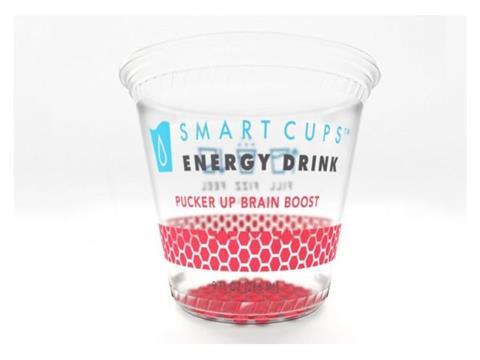 During her interesting talk at Fachpack's Forum PackBox, XbeyondS's Nina Saller presented an overview of material trends and innovative packaging designs.
One new concept particularly caught my attention. A Californian start up company developed a new technology called Smart Cups™. It can 3D print beverage ingredients right inside of cups made out of eco-friendly bioplastic materials. All consumers need to do is add water to enjoy an energy drink.
The 3D printed polycapsule cups contain microcapsules, containing vitamins and minerals, which have been printed right onto the surface of the cup, and the ingredients are activated when it is filled with water.
According to the company's website, a single line of functional beverages showcasing the functionality and versatility of what Smart Cups Technology™ can do was launched initially, but there are plans for launching new flavours and lines of beverages with different functions.