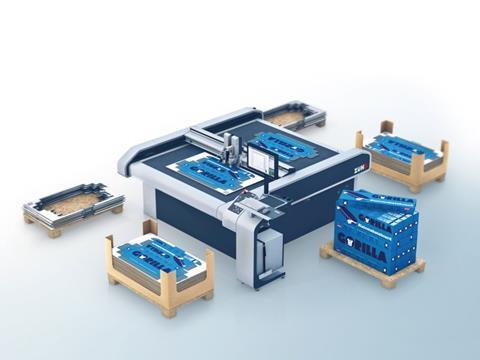 Zünd UK will showcase a Zünd S3 M1600 digital cutting system at Packaging Innovations this autumn, demonstrating its exceptional capabilities in sample-making and short-run packaging production.
Returning to the Olympia in London on September 13th and 14th 2017, Packaging Innovations will feature an awards programme, seminars, advice, networking opportunities, new products and machinery demonstrations.
Zünd UK has been a regular exhibitor at Packaging Innovations and can again be found at stand D2 over the two-day event, running demonstrations of the Zünd S3 M1600 and providing information on the entire Zünd range.
In particular, the Zünd UK team will be showcasing the benefits of the Zünd S3 and its complementary software, modules and tools for packaging designers looking to increase the speed, accuracy, cost efficiency and overall quality of their samples and short-run work.
The machine will be processing carton and corrugated materials typically used by businesses in this market, but can handle a wide range of substrates including plywood, plastics and foams – meaning packaging professionals can explore potential diversification channels.
"Packaging Innovations is always a hotbed of ideas and talent so we're looking forward to returning to the show this September," comments Stuart Cole, Managing Director, Zünd Plotting Systems (UK) Ltd.
"There has been a real surge in brilliant packaging design in recent years so we expect to encounter plenty of questions about how Zünd equipment can help make innovative design ideas a tangible reality, especially in terms of small-batch products and personalisation."
Like all Zünd digital cutting systems, the Zünd S3 has a modular design to ensure each user has the perfect configuration to meet their needs – both upon installation and in the future, with upgrades, changes to modules and new tool installations possible at any time. At Packaging Innovations, visitors will be able to see demonstrations of the Zünd S3 M1600, a medium-sized option in the S3 range; cutting tables with smaller and larger bed sizes are available, all with an energy-efficient vacuum system to hold down material for accurate cutting.
Zünd systems are manufactured in Switzerland under strict quality and safety principles, offering highly automated, powerful capabilities for a plethora of businesses.
More info: