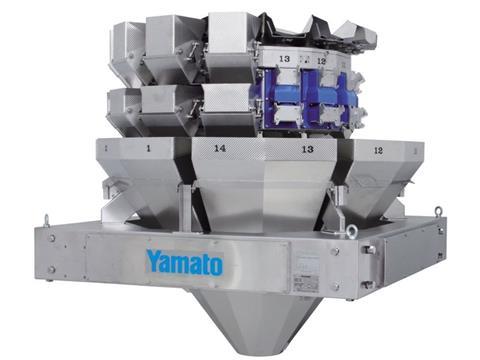 Yamato Scale Dataweigh UK will be launching its innovative new mid-range multihead weighing machine at the PPMA in Birmingham this month.
The new Dataweigh EPSILON is designed specifically for the cost-effective weighing and packaging of loose products.The EPSILON automatic weighing machine range will take pride of place on the Yamato stand B14, Hall 5, at the Birmingham NEC from 26-28 September.
The new Dataweigh EPSILON series combination weighers bring together the best features of the SIGMA Series and Yamato's intelligent OMEGA series in a single affordable machine. The new multihead weigher increases the weighing options available from Yamato.
"We are convinced that the multihead weighers in this series will revolutionise the weighing and packaging of loose products across a variety of sectors", said Andrea Spencer, commercial operations manager for Yamato Scale Dataweigh UK.
"The new Dataweigh EPSILON series delivers excellent performance at an affordable price. It can handle a wide range of products without sacrificing speed or accuracy."Maintaining the Dataweigh EPSILON is easy. Buckets and linear feeder pans can be simply removed and re-attached without tools and an auto-inhibit function allows buckets to be removed without stopping the weigher, therefore reducing downtime.
Intrinsically hygienic and safe in structure, the Dataweigh EPSILON is IP 66 compliant - making it ideal for harsh environments such as fresh produce factories or frozen food processors.
The buckets have large radius corners which make the weigher easy and quick to clean, also reducing downtime. And the machine is robust, with load cells that can withstand loads of up to 150 kg.
Operating the new Dataweigh EPSILON is straightforward. A 10.4-inch colour touch screen displays user-friendly icons to enable effortless operation, while a wireless connection for smart phones and tablets is available to allow the user to check and operate the screen remotely. Up to 100 pre-set programs can be stored to memory. The new Dataweigh EPSILON series can be networked with other devices. The machine's PC can be remotely controlled by any web browser and OS and Wi-Fi connectivity is also available.
Feedback control between checkweigher and multihead weigher has improved yield rates and data can be acquired and reviewed in real time via Ethernet.Andrea Spencer said: "We were excited to showcase at the PPMA event again and we're looking forward to making an impact with our new EPSILON weigher "PPMA Total gives us a valuable opportunity to engage with customers and demonstrate how they can best achieve their objectives with Yamato's checkweighers and range of weighing machines.
"The addition of the new Dataweigh EPSILON multihead weigher means that we can deliver a one-stop-shop solution in the main food processing sectors including fresh produce, IQF and frozen foods and snacks and confectionery".
More info: