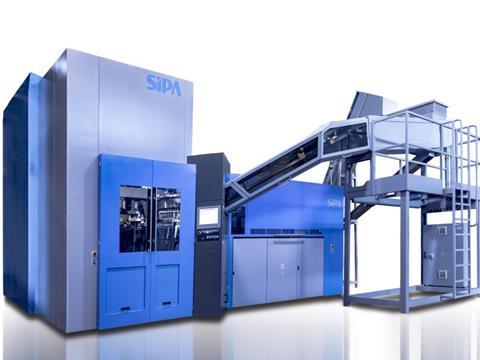 A revolutionary stretch-blow system for production of PET bottles is being unveiled by PET processing technology specialist SIPA at drinktec.
The XTRA combines features that for the first time maximize performance and cut Total Cost of Ownership (TCO) by a full quarter. It offers the highest unit output (bhc) in the sector, an extra-wide processing angle, reduced energy consumption, high flexibility and ease of use, as well as compatibility with other machines upstream and downstream.
"With over 30 years of experience, SIPA is the benchmark in technologies for the production, filling and packaging of PET containers," says Paolo De Nardi, SBM product manager at SIPA ." XTRA is the result of our unmatched expertise, constant research, and concentration on process innovation."
2550 bhc: a perfect combination of speed and quality
XTRA is capable of producing 2550 bottles per hour per cavity – the result of an R&D process involving SIPA's entire development department that put particular emphasis on kinematics and mechanical movements. Such a high figure makes it possible to reduce the number of blow molds for any given total output requirement, accelerating changeover times and lowering investment costs. "Speed equals more efficiency and better performance," says Mr. De Nardi.
15% increase in process angle
The process angle on the new XTRA is 200 degrees – a value that exceeds current market standards by some 15% and facilitates production of bottles of excellent quality, even at high speeds. Such a wide process angle makes it possible to apply high pressure air for up to 0.8 seconds, enabling production of containers, even the most complex ones, with extreme accuracy.
For many product types
XTRA can produce bottles from 0.2 up to 3.5 liters in volume, quickly and easily. It can also accommodate different neck sizes (28/38 mm). In addition, the clamp stroke has two settings: short, to produce bottles of up to 1.5 L at a maximum speed of 2550 bhc; and long, for containers up to 3 L and an output of up to 2400 bhc. This mechanical flexibility is complemented by the ability of the machine to produce hot- and cold-fill containers, without any changes to the system.
A system that is open and compatible
XTRA was designed to be able to integrate and interact with other machines, creating high-performance production systems consisting of different products that all speak the same language. It can for example be directly connected to a filler to create a standard system for production and filling of PET containers; equally, it can be integrated with SIPA's XTREME rotary injection-compression platform for preform production. Finally, XTRA can interface with XTREME Renew, which produces preforms directly from recycled bottles, creating a system unique in the world – XTREME Renew Sincro.
Intuitive, accessible and energy-efficient
The new XTRA stretch-blow molding system is designed to make the work of its operators easier. Thanks to its simple interface, each user can adjust all parameters extremely quickly and safely. In addition, all planned and assisted maintenance activities can be carried out without the use of tools for either quick mold change or neck changing.
Finally, XTRA makes it possible to optimize energy consumption, reducing operating costs and maintaining a high performance level; it has a special eye on the health of the environment, with its air recovery system and reduced dead air volumes during blowing.