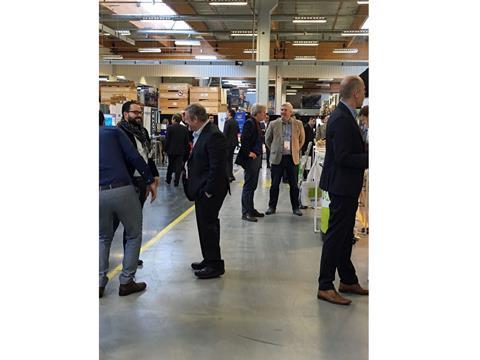 The success of Xeikon Café grows year on year and the fourth edition which took place last week was no exception. A record number of 830 unique visitors attended the four-day event, which had an international scope with attendees from 40 different countries – mainly Europe, Asia and Australia as American packaging and label printers are invited to the Xeikon Café North America that takes place May 15-17 in Itasca, Illinois. The organization also announced that next year's Xeikon Café event has been confirmed and will run again in Belgium from March 26 through 29, 2019.
"The combination of a relaxed environment with demo's and technology presentations from leading-edge suppliers is at the heart of the success of Xeikon Cafe," comments Danny Mertens of Xeikon Café. "It continues to help visitors identify the best business benefits of a digital production approach and signpost how future developments can support profitable growth. It was clear visitors came with a focussed agenda, exploring topics that were very specific to their business, and discovering the many production possibilities and live applications. We are delighted to have been able to bring so many partners, technology and end-use applications together under one roof to ensure visitors could gather all information they need to make the right decisions for their businesses."
Must attend event where visitors Learn, Connect and Discover This year's Xeikon Café introduced the well-attended educational Academy programme with over 15 interactive workshops and technology-driven Tech Talks, covering useful insights in current and future hot industry topics and decoration techniques. Also the live production of over 40 applications and the opportunity to view technology from leading industry suppliers was well received by the visitors.
Highlights of the Conference programme included an inspiring look at the future and how innovation is much like making moonshine with keynote speaker Andrew Vorster. Johan Van de Velde from AB-InBev talked about enhancing customer relations through digital printing, Niko Dhondt from Altrif Label outlined how digital print has driven successful label innovation and Patrick Poitevin from Mondelēz International detailed current and next-generation printing technologies. The question of how to balance dry toner and inkjet was addressed by Carsten Stahl Hansen from Limo Labels; Lisa Sohanpal from Nom Noms World Food shared her brand's design journey and Giuseppe Prioriello talked about his unique web-to-print packaging solution, Packly.
What visitors had to say
"I am here all week to learn more about digital. My background is in flexo so I wanted to take the opportunity to broaden my digital knowledge, my aim is to attend a lot of the workshops and gather general information." Anton Cook, Multipackaging Solutions, UK.
"I came last year to build stronger relationships and meet new customers. This year I brought a colleague along so he can also learn about the digital opportunities. We plan to attend many of the workshops and tech talks." - Angelo Stefanoni, Senior Soconomar Spa, Italy.
"We are interested in the UV inkjet developments so we came to see the new flagship press and do some research. From our point of the view, it is the future of digital and it is very productive." - Andre Reshetev, FlexPrint Russia.
"We are a flexo company and we are here to see what digital has to offer and learn about the possibilities. We are very impressed, particularly with the quality of the many applications we see live produced at the event!" - Ivan Crnojevic, Elmed Doo, Serbia.
"I have been here for three days to meet up with visitors, suppliers and Xeikon, and to listen and learn. It has been interesting to hear more about trends and new ideas, and find out how business in other segments have overcome challenges. It is important to keep an open mind." - Benjamin Rudt von Collenberg, InForm Etiketten, Germany.
"Xeikon Café is always so friendly and has a great atmosphere. We came for the academy to get updates on new technologies and developments and visit the toner factory. We also had some questions we wanted to get answered. It is very important for us to attend and collect this knowledge." - Tim Murphy, Mercian Labels, UK.
"Digital printing in India is quite different from Europe. It has only really been growing for the past three years so there is a lot to see and learn. I am here to look at everything and see what knowledge I can take back." - Prakask Patel, Javcorp, India.
"We are Xeikon customers and have come to see the different presses running and catch up on the latest developments. We also had a couple of meetings planned to learn more about the possibilities of inkjet." - A P G de Vos, Label-Pak, Belgium.
More info: