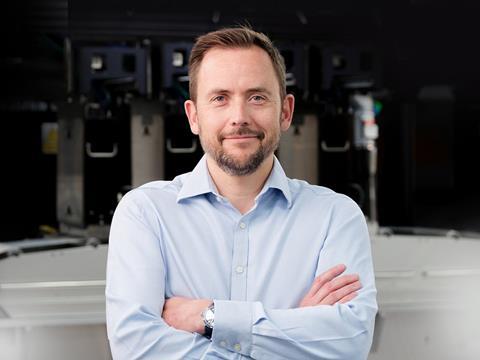 Our latest 'In Conversation With…' feature is an interview with Neil Cook, Business Development Manager at Fujifilm's Ink Solutions Group – a supplier of inkjet ink solutions and pigment dispersion technologies. Neil tells us more about some of the important considerations to be made in ink design for inkjet printed packaging.
Why is ink chemistry so important in inkjet packaging?
Advances in inkjet technologies are facilitating the development of high-productivity industrial digital print systems for packaging. However, it's not solely about hardware. Ink chemistry is a critical component throughout the printing and packaging production process - it becomes an integral part of the packaging structure, forming the image that must endure for the lifetime of the package.
For inkjet to be a mainstream print process for packaging, it has to be competitive with analogue quality and productivity. The inkjet process imposes distinct requirements for ink design. Jetting ink through micro-architecture inkjet printheads limits particle size and raw material choices, but it must still meet a challenging set of performance requirements, for example: High image quality requires optimal jetting, precise drop placement, and formation of the right dot shape; high-speed single-pass printing with high-resolution printheads requires very reliable jetting performance; and inks must withstand post-print converting processes such as lamination.
Why is aqueous technology important for inkjet packaging?
Packaging encompasses many substrates and application requirements. For the purposes of talking about ink, they can be broadly categorized as:
Fibre-based Substrates: Ink adhesion and drying are at least partially achieved by absorption into the substrate. In folding carton applications, high image quality, good colour, tolerance of folding processes and often Indirect Food Contact (IDFC) compliance are essential. Corrugated packaging is often less image quality-critical.
Filmic Substrates: Without the ability to absorb water, all the image control has to be achieved by ink or primer on the surface of the film. Some are thermically stable but others can stretch or shrink, so the ink has to work within the parameters of the substrate. For close-view flexible packaging, image quality, good colour and flexibility are required and IDFC compliance is critical. Filmic labels share similar requirements, but the packaging barrier minimises the need for IDFC in some applications.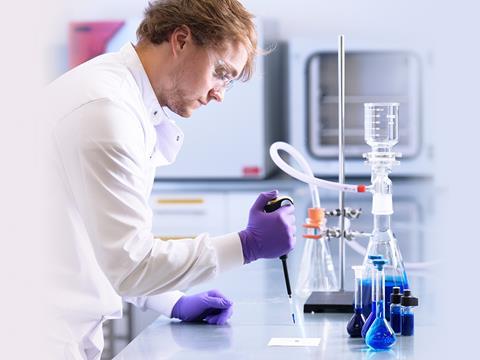 Different applications have distinct ink functionality requirements, requiring careful selection of the right technology approach. UV technology is very suitable for adhesion to filmic substrates, with high durability, and fast curing. However, strict requirements for IDFC applications make it difficult, but not impossible, to achieve with UV.
Also, because of a historic perception of UV, there is a reluctance to use this technology in food applications. With aqueous inks it is easier to achieve IDFC compliance along with thin ink film for lamination, and flexibility, but it is challenging to formulate for filmic substrates. For example, the substrate may not be receptive to an aqueous ink because of the tendency of plastics to repel water. This is also disruptive to image quality.
The complexities of designing IDFC-compliant aqueous inks for filmic substrates means skilled ink and primer design is essential to achieving the demanding performance requirements.
What innovations in ink chemistry are enabling challenging packaging applications?
One area of innovation is in pigment dispersion, the core colouring component of an ink. In flexible packaging, achieving good adhesion of low-viscosity aqueous inks requires the use of more aggressive components in the formulation to creating a strong interaction with the substrate or primer and achieve faster drying. Usually, these kinds of components would destabilise or break down the pigment dispersion.
Fujifilm's RxD dispersions use a proprietary cross-linking technology that locks each pigment particle in a secure cage of polymer, enabling them to tolerate the presence of these components. Having a highly stable dispersion generally gives freedom to use a wider range of components to build the right functionality and characteristics for the ink in challenging applications.
The selection of the right materials to enable ink formulations for new applications requires experienced chemists and analytical testing capability. Fujifilm has comprehensive resources in this area and the capability to design its own customised raw materials.
Why does a custom approach to ink development matter?
Because ink is a significant component throughout the entire process, all ink interactions have to be considered. There are hundreds of variables that affect ink design – target substrates, productivity and quality, printhead selection, drying criteria and post processing etc. A successful ink formulation requires a complete system approach, considering all these factors to meet the right application performance and functionality at a price point.
For example, in designing aqueous ink for films, absorption can't be used to assist in drying - everything needs to be evaporated aside from the binder and pigment. But creating a more volatile, quicker-drying ink makes it more likely to dry in the printhead, affecting jetting sustainability. As well as the chemical formulation, waveform development and maintenance procedures must also be considered as part of the ink design.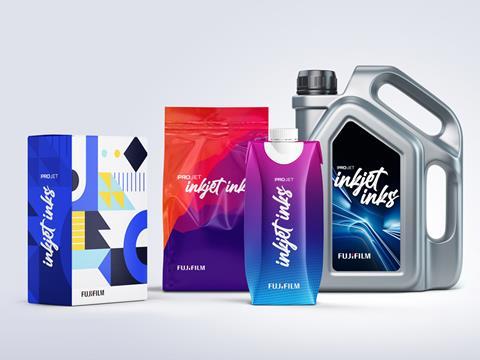 For single-pass flexible packaging, the ink needs to be designed as part of a system, alongside the printhead, maintenance process and ink delivery system. Ink design is a process of balancing and compromise to achieve the required performance. Only by understanding the whole system, processing, and end-application can the ink and supporting fluids be designed and optimised to enable the system to print consistently over time.
Where does Fujifilm's Ink Solutions Group fit into all this?
Fujifilm's Ink Solutions Group provides inkjet inks for OEM and converter print system developments and supplies its RxD pigment dispersion technology to other ink formulators. It also provides contract manufacturing services for aqueous inks. Committed to driving the advancement of inkjet technology, we are making continuous investments to advance digitisation in packaging.
It has the capability to support the development of high-performance inks, primers, and maintenance fluids for projects of the largest scale in single-pass inkjet. And with over two decades of experience in aqueous single-pass inkjet technology, we have overcome many of the challenges encountered in developing aqueous inks for industrial-level applications.
Fujifilm adopts a project-based approach to complex inkjet ink developments, combining the expertise of science and engineering disciplines with Application Development to deliver successful ink solutions.
Explore how Fujifilm can support your inkjet packaging project: https://www.fujifilmink.com/packaging/