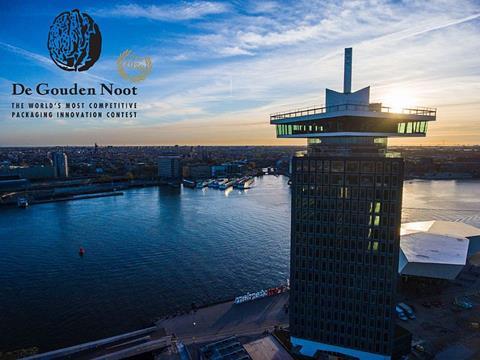 Since its inception in 1958, Packaging Innovation Contest De Gouden Noot ("The Gold Walnut") has developed into the world's most competitive packaging contest. With De Gouden Noot, NVC Netherlands Packaging Centre stimulates 'holistic' innovation in packaged products and packaging. The contest has no subcategories; all entries are judged on their over-all innovativeness.
The contest owes its name to the unique winner's trophy containing a solid gold walnut, symbol of sustainable, effective and innovative packaging. Winning brings significant worldwide fame, both 'online' and 'physical' through leading packaging exhibitions and events. Participation also gives the company and its employees recognition for all their innovation efforts.
The judging takes place in two rounds. The jury is independent and covers all aspects of packaging in terms of composition. The chairman of the jury is Professor Renee Wever. In the first round of the jury, ten finalists will be selected from a maximum of 40 entries. Non-finalists will receive a report containing the Jury's findings on their submission.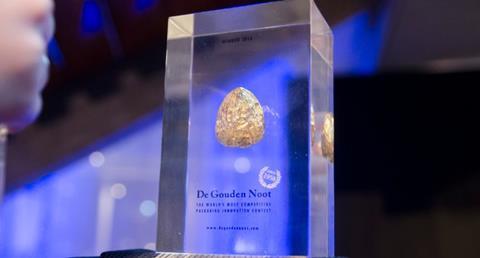 In the second round of the jury, the finalists will be given the opportunity to present their entries to the entire jury. The Jury will then decide which entry wins the Gold and which one wins the Silver and Bronze.
Find out who the finalists of the 29th edition of De Gouden Noot are.
The winner of the 29th edition will be announced during the Award Ceremony on Thursday evening 22 November 2018 in Amsterdam at the A'DAM Tower.
De Gouden Noot #30
Registration for the 30th edition of De Gouden Noot is possible from Friday 23 November 2018. The finalists will be on display at the NVC stand at the busy North Entrance of international packaging exhibition interpack (7-13 May 2020 in Düsseldorf, Germany). The Award Ceremony will take place 8 October 2020 in the A'DAM tower in Amsterdam.