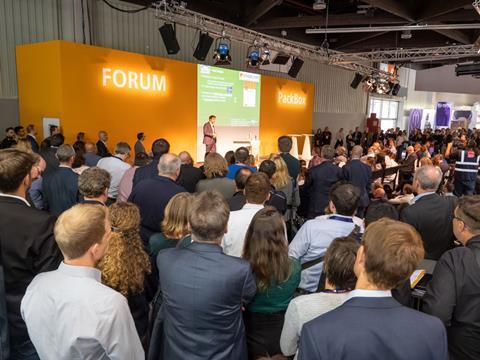 FACHPACK returns after a two-year break, with the European trade fair for packaging, processes, and technology running live from the 28th to the 30th of September 2021 at the Exhibition Centre Nuremberg, Germany, as well as via its digital extension, myFACHPACK.
FACHPACK's organisers say the trade fair will feature 782 exhibitors from 34 countries, with presentations of products and solutions available across seven halls at the Exhibition Centre Nuremberg. The myFACPACK digital extension, which can be used from a desktop or mobile app, will allow both in-person and virtual attendees to search for products, exhibitors, and participants, as well as provide a live stream of lecture forum programmes.
FACHPACK's extensive programme of events includes three lecture forums: PACKBOX, TECHBOX, and INNOVATIONBOX. Each lecture forum allows presentations from key figures in the packaging industry and for discussion rounds. In addition, PACKBOX and TECHBOX will have a different theme for each day of the event, covering topics such as sustainability, design, efficiency, and digitisation.
There will be a special show dedicated to sustainable packaging in Hall 7 at the Exhibition Centre Nuremberg, curated by bayern design. The 18 exhibits featured at this show include material experiments focused on developing new materials, prototypes of new packaging solutions, and examples of implementing sustainable packaging on the market.
FACHPACK also provides an opportunity to spotlight the packaging industry's major innovations with the presentation of the German Packaging Award. This competition honours innovation in the packaging industry across 10 categories, with its winners announced in July. The competition's Gold Award, for the most ground-breaking innovation among its winners, will be presented live at the event at the Exhibition Centre on the 28th of September.
In addition, Packaging Europe's Sustainability Awards will be presented at PACKBOX on the second day of the trade fair, Wednesday 29th September. The Sustainability Awards are an opportunity for us to examine innovations that make a genuine difference in the packaging industry, highlighting the most important areas of R&D. A jury of 46 global experts from across the international packaging value chain will independently judge submissions based on carefully considered criteria.
Before the event, you can read about our finalists, chosen from over 300 submissions – more than ever before. This year's categories include 'Driving the Circular Economy, 'Resource Efficiency', 'Machinery', 'Best Practice', 'Pre-Commercialized Innovation', 'Recycled Packaging', 'E-Commerce', and 'Bio-Based Packaging'.
Last year, the Sustainability Awards 2020 were hosted online. The overall winner in 2020 was the Fraunhofer Institute for Silicate Research for its bioORMOCER® biodegradable functional barrier coatings.
This year, Packaging Europe will be joined by P&G's Gian De Belder and PackZ's Dick De Koning from 16.00 CEST at FACHPACK, followed by the Sustainability Awards 2021 ceremony commencing at 17.00 CEST. You can attend in-person at the Exhibition Centre Nuremberg or sign up to watch the event online for free.
Heike Slotta, executive director of NürnbergMesse, says of the 2021 FACHPACK event: "We are extremely pleased to be able to offer the packaging sector its favourite in-person meeting place at the Exhibition Centre once again.
"Although FACHPACK is a little smaller this year, the industry is still represented with its full range of products and services, including at an international level. Forty percent of the exhibitors will travel from outside Germany.
"FACHPACK offers a top-level programme with a wealth of new products and innovations which it has been impossible to present at trade fairs for such a long time."
You can sign up to watch the Sustainability Awards 2021, starting at 17.00 CEST on Wednesday 28th of September, here. You can also stay updated on FACHPACK 2021 by following Packaging Europe's Twitter.