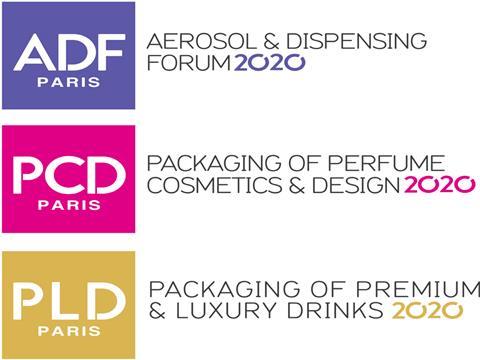 ADF&PCD and PLD Paris 2020, the dedicated event for the aerosol, dispensing, perfume, luxury drinks, and cosmetic packaging community starts tomorrow (Jan 29th). What innovations and announcements can attendees expect to see?
Full teams of packaging decision-makers from the biggest brands in beauty, drinks, and FMCG are set to attend, including Unilever, Chanel, Beiersdorf, Clarins, L'Oréal, LVMH, Johnson & Johnson, Parfums Christian Dior, Remy Cointreau, and Pernod Ricard.
The brands will send marketing, design, procurement, and packaging development professionals to the 2020 event, which has been designed to encourage collaboration across different job functions, source new products and suppliers, and gain new knowledge about various markets.
Each day, an Olfactory Workshop will be held on the PLD Cocktail Bar, in partnership with the Fragrance Foundation France and scent business, Cinquième Sens. The workshop will guide visitors through a comparison of scents and experiences from different spirits and perfumes. The workshop hopes to help visitors gain a deeper understanding of the products they package and highlight the shared inspirations for product and packaging developers across the drinks and perfume markets.
There will also be mixology demonstrations each day and a signature PLD Cocktail for visitors to taste at the PLD Cocktail Bar, highlighting how packaging can be successfully displayed and experienced in the bar environment.
A series of new networking events are scheduled for the show, including gatherings for members of the Fragrance Foundation France and Ampac: the alumni association of leading packaging university ESIReims. In keeping with ADF&PCD and PLD Paris 2020's overarching theme, these events are intended to bring together packaging innovators across multiple sectors.
In terms of product announcements and innovations, highlights include:
Bormioli Luigi: The luxury glassware manufacturer will roll out new innovations for its ECOLINE products, which its says reduce CO2 emissions by 70-80% compared to other glass manufacturing methods.
Essel Propack: The tube manufacturing giant is set to announce Project Liberty: a drive that will reportedly make certain packaging products in its oral care and beauty & cosmetics fully recyclable for its clients.
Lindal Group: The aerosol manufacturer will launch two new actuator products: Olive, designed for use with cooking oils; and Teo, a universal design for antiperspirants and deodorants.
ELIPSO: The French trade organisation will outline findings from its annual circular economy report. This apparently reveals that the number of companies in France whose sales have been adversely impacted by the anti-plastic climate has doubled year-on-year.