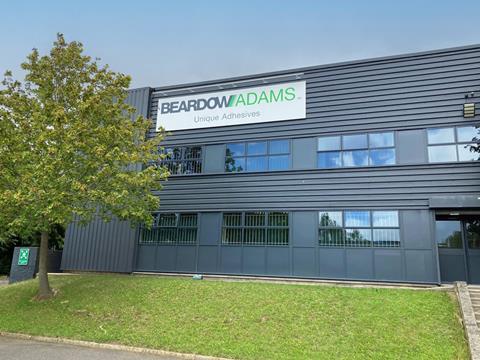 Earlier this year, H.B. Fuller announced that it had acquired Beardow Adams – an industrial adhesive manufacturer based in the UK. In this 'In Conversation With…' feature, Karina Borin, Global Marketing Manager for End of Line and Graphic Arts, Dietrich Crail, Senior Vice President of Global Rigid Packaging, and Stuart Jenkinson, VP Sales Health, Hygiene and Consumable Adhesives, let us know more about the thinking behind the acquisition – as well as its predicted results.
Let's start with some background – what is H.B. Fuller hoping to achieve through this acquisition?
KB: This acquisition strengthens our industry expertise and customer relationships in core markets, specifically in Hygiene, Health, and Consumable (HHC) Adhesives and Engineering Adhesives (EA) in important geographies like the UK, Europe, the U.S., and emerging markets such as Latin America.
Our combined capabilities will give us a broader and diversified product portfolio, optimized global manufacturing and supply chain in close proximity to customers' operations.
It also offers significant synergies and commercial opportunities through expanded relationships, distribution partners, technology, and innovation.
Could you give us some more information on Beardow Adams, the markets it serves, and its key product offerings?
KB: Beardow Adams was a UK-based, family-owned business that has grown since its establishment in the mid-seventies into a proven multinational industrial adhesive manufacturer, with 10,000 customers in more than 70 countries across a variety of applications.
A trusted supplier with exceptional service and world-class solutions in many of H.B. Fuller's core market segments, like packaging, labelling, graphic arts, tapes, as well as woodworking and durable assembly.
Its main brands for the packaging industry include:
BAMFutura hot melt adhesives are clean-running, low odor adhesives with high adhesion, and they encompass countless industry application in packaging, labeling, woodworking and bookbinding market segments. BAMFutura 51 is one of the company's "Star Product", a versatile, problem-solving adhesive, with broad temperature performance and wide adhesion profile.
BAM: Beardow Adams BAM adhesives form the backbone and core brand of hot melt adhesive products. BAM encompasses multiple solutions groups and markets from packaging, labelling, woodworking, converting and bookbinding.
Pressen™ hot melt pressure-sensitive adhesive technology (HMPSAs)is used for self-adhesive tapes, label stock, closures, seal-strips, pest control products, insulation, and other self-adhesive coatings. They create the desired adhesive coating and necessary performance for materials, such as paper and filmic label stock, plastic films, corrugated and cardboard, and ceramic surfaces.
Signacoll: is a versatile range of labeling adhesives for glass, PET (one- and two-way) foil bottle neck wrap, and clip-lock caps.
In 2016, Beardow Adams became the first adhesive manufacturer in the world to be granted the British Retail Consortium Global Standards' (BRCGS) packaging certification and the first adhesive company to achieve the 'A grade' BRCGC packaging certification only one year later. In straightforward terms, this means Beardow Adams manufactures packaging adhesives to a food grade standard which ensures adhesives are produced in an environment suitable for use in the food and beverage market.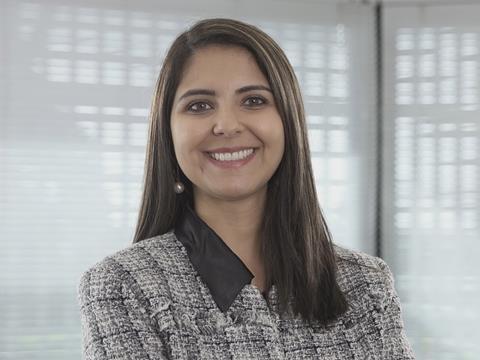 What did H.B. Fuller find attractive about Beardow Adams from an innovation and sustainability perspective?
KB: Beardow Adams is known by its commitment to innovation and intimate customer relationships. Their global production facilities are equipped with the very latest technology and the home to their pioneering BAMFutura® product range. These products continually extend existing capabilities to enhance customers' working environments, improve their production efficiencies, and reduce costs, and their drive to find answers for customers has led to numerous industry firsts and technological breakthroughs.
Plus, Beardow Adams has a dedicated team working toward a more sustainable future. They offer bio-based adhesives from 35% to 55% fossil-free content for multiple applications, in addition to plastic reduction schemes, alkali-washable products and many more options to support each customer's environmental goals.
Our companies' sustainability strategies are aligned, and our customers will benefit from a complete portfolio when we add Beardow Adams bio-based products to our recently released H.B. Fuller Advantra® Earthic™ 9370. This is our first near carbon neutral adhesive containing a high share of fossil-free, renewable raw materials and manufactured in ISCC plus certified production plant, providing full supply chain traceability.
This sustainable technology for case and carton sealing applications enables customers who are striving to reduce the environmental impact of their packaging and be one step closer to circular economy-ready packaging.
And how do you expect the company to fit into the H.B. Fuller family?
KB: The integration process started on day one, back in May, with dedicated teams from both companies coming together to share product information and innovation processes. H.B. Fuller's core values – the spirit of winning, power of collaboration, and essence of courage – align closely with those of Beardow Adams. Our company cultures also are very similar: we are committed to quality and service, we closely monitor trends to get ahead of our customers' needs, and we deliver difference-making innovations.
SJ: Like Beardow Adams, our commitment to putting customers first, and our desire to be a partner for the long-term, mean that we will make every effort to ensure this is a seamless transition and that together we will be able to offer complementary technologies and highly specialized adhesive solutions.
Our companies share cultures and growth strategies that are well aligned, and our combined capabilities will integrate seamlessly into our global business units. By joining forces, our teams will surely leverage synergies to partner more efficiently and effectively with customers and partners in core markets, like packaging, labelling, and tapes, just to mention a few.
Are there any exciting innovations of areas of synergy on the horizon?
KB: This acquisition represents a strong match between two companies serving similar markets and applications. We will leverage Beardow Adams' strong offer of bio-based adhesives, plastic reduction schemes, alkali washable products, among others, which are supporting our customer's environmental journey,
DC: The development of innovative products through customer collaboration, as well as delivering excellent customer service, has always been at the heart of Beardow Adams. That team has also been working with leading UK universities in recent years to develop unique adhesive solutions for sustainability, which will be available commercially soon.
We believe these developments will advance many applications and help create change in the way adhesives interact with finished articles and their end-of-life.
Now, the opportunities for innovative and sustainable solutions through the joint expertise and talent of our people is truly limitless. We are in pursuit of helping our customers achieve their business goals the right way, and we believe this unification will increase the speed of synergy toward a sustainable future.