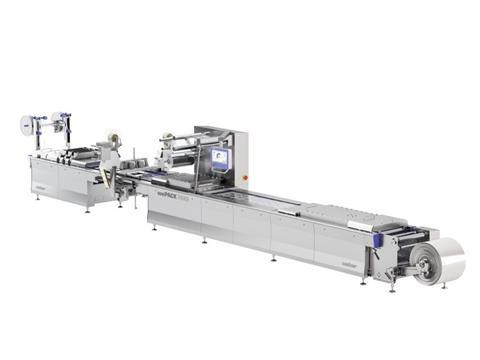 At FachPack, Weber showcased a packaging machine designed for meats and cheeses applications which the company says features high output performance, quality as well as ease of operation and servicing. Its hygienic design and a high degree of automation help wePACK further guarantee the highest standards of food safety.
The thermoformer comes with a robust stainless-steel frame which has many advantages especially in the oftentimes rather forceful context of production. wePACK can deal with some heavy "pushing and shoving" without such outside interference leaving any mark on the wrinkle-free flow of the film which will proceed at maximum stability. Thanks to its modular and expandable frame, wePACK is not only built to last but is ready for future upgrades as well.
The machine features a servo driven lifting system specifically designed for today's demands of sliced goods packaging. The lifting system is made of 100 % stainless steel and it sets new standards through combining Weber's hygienic design with incredible market-first high speeds. Thanks to its intelligent design, wePACK needs no lubrication. In its big roll as well, Weber makes use of electrical drives. Film changes can be performed quickly and effortlessly. In combination with the robust construction, the wePACK 7000 is characterized by a precise and simple film control for maximum usability and convenience.
The shear cutting system prevents erroneous settings and with that a premature wear-and-tear of the blades. Thanks to a servomotor, it can be customized individually and safe for future developments to all kinds of film. This minimizes costs for spare parts. Since wePACK contains identical components as other Weber modules, the need for storage space of spare parts is also reduced.