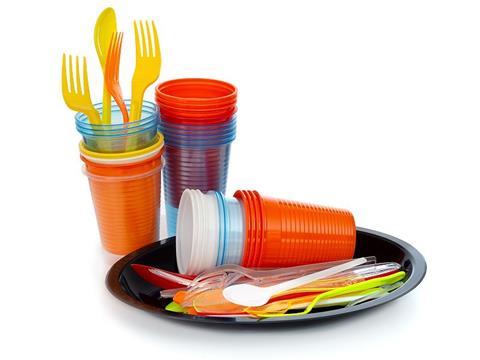 A new report addresses the risk of increased foodborne illness if the EU promotes reusable alternatives to single use food and beverage service packaging in contexts where this could be considered inappropriate, notably where consumers eat and drink out-of-home and on-the-move.
The report, commissioned by Pack2Go Europe, the association of food and beverage service and convenience packaging manufacturers in Europe and is by Professor David McDowell, Emeritus Professor of Food Studies at Ulster University and acting chairman of the UK advisory committee on the microbiological safety of food, part of the UK Food Standards Agency.
The report states that, in the absence of radical, significant and unprecedented changes in consumer practice, a ban on or reduced access to food & beverage service packaging and related items will lead to greater persistence and circulation of foodborne pathogens within the human food chain, and increased risks of human foodborne illness in our community.
Pack2Go Europe critizises that the European Commission rushed out its proposals in May this year in a bid to reduce the marine littering of plastics but without any assessment of the food hygiene and public health risks. EU environment protection strategy prioritizes reuse as part of the bloc's overall waste management policy without taking into account the risks to consumer health and safety where food is concerned.
"Even if they think they are doing the job properly, consumers typically fail to clean reusable containers adequately, leaving behind bacteria and viruses that you really don't want near food," says Professor McDowell. "They then carry this dangerous material around in reusable bags alongside other items, which also present a high risk of cross-contamination. If consumers bring these containers for refill at takeaway food outlets, coffee shops or even use them with vending machines or water fountains, there is a really high risk that these contaminants will be transferred to other people's food. That's exactly what we should be trying to avoid."
The EU wants to promote reusable containers by restricting access to disposable cups, glasses, trays, boxes and other food containers, cutlery, stirrers, straws and bags, and even to ban some of these items. These are widely used products that are key elements in preventing cross contamination of food products, especially within the retail and consumer stages of the human food chain, like the service of takeaway food and drinks. In effect, the proposal "outsources" responsibility for food hygiene and public health to consumers, hoping that they will clean their re-usable items properly.
"It is of considerable concern to me and a grave omission that the proposal has not been subject to detailed impact assessment for the hygiene, health and safety risks to which it may unintentionally subject EU consumers," continues McDowell. "These matters merit a much more considered and careful debate by EU legislators than has been the case to date. It would be prudent to avoid unnecessary risks with food safety and public health."
Many cases of foodborne illness are transient and mild, being limited to malaise, nausea and vomiting. Unreported, these cases are usually resolved without reference to health authorities. However, a significant number of more severe cases of foodborne illness caused by cross contamination within the food chain, involve life-threatening kidney and liver failure, temporary or persistent paralysis, dysfunction of the nervous system and brain, and/or death, particularly among higher risk groups – that is to say, young, old, pregnant or immunocompromised people.
One study cited by Professor McDowell reports a 25% increase in hospital admissions related to foodborne illness, and comparable increases in deaths associated with foodborne infections, in a number of counties in California – after single use grocery bags were banned and replaced with reusable "longer life" bags.
"Our products are designed and used to guarantee food hygiene, protect public health and ensure consumer safety and are vital to the way many people live their lives today. Professor McDowell's report underlines that they are indispensable in many situations," says Mike Turner, managing director of Graphic Packaging International Foodservice Europe, and president of Pack2Go Europe. "This is a moment for the EU to take a precautionary approach to health and hygiene – EU citizens do not expect politicians and civil servants to gamble with their wellbeing."
Pack2Go Europe believes that the unacceptable littering of used packaging and other products by consumers, which has contributed to the presence of plastics in the marine environment, can be reduced effectively by implementing the EU's newly adopted rules on waste.
"The EU single use proposal should take a positive approach, not a punitive one, by setting collection targets that would accelerate more and better collection and recycling of items used for serving food and drinks," Turner continues. "That would help deliver a "win-win" situation – less litter and a circular economy for all our products."
The measures proposed for food & beverage service packaging and related items should be proportionate to the problem they actually pose, especially given that new European rules came into force in June this year that create a true EU policy to address litter and the prevention of littering.
According to surveys used by the European Commission as the basis for its proposal, food & beverage service products account for just 4% of total waste found on beaches and about 8 to 9% of single use plastics items on EU beaches. The same survey shows that plastics bottles and caps, cigarette butts and snack and confectionary wrappers together account for nearly 60% of single use plastics found on beaches, yet no restrictions or bans are proposed for these items.