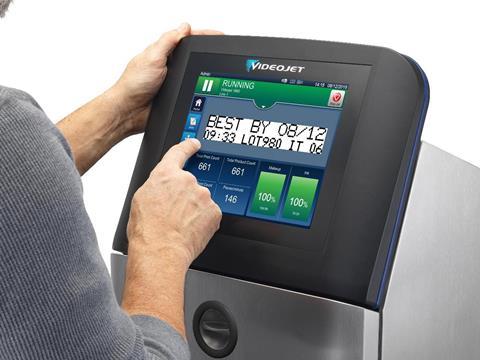 Using industry leading predictive capabilities including an industry-first ink build-up sensor, the brand new Videojet 1860 continuous inkjet printer (CIJ) provides up to eight hours advance notice of the most common potential fault conditions that can impact on line uptime.
For over 40 years, Videojet has been a global leader in CIJ printing, enabling manufacturers to deliver their goals on increased productivity. Videojet is excited to launch the Videojet 1860, designed to enhance productivity today and evolve as your future production needs continue to change.
With the 1860, Videojet has re-imagined continuous inkjet printing technology. The Videojet 1860 integrates leading on-board intelligence and communication abilities with revolutionary technology elements to help meet the ever evolving and expanding needs of manufacturers. The 1860 delivers unparalleled uptime performance that can increase productivity and lower costs. Its uptime capability enables performance without surprises. An industry-leading suite of predictive capabilities allow for corrective actions prior to many of the most common downtime causing events. The 1860 utilises over 50 real time sensors to continuously monitor 150+ key indicators of printer performance; providing expert diagnostics, analytics, and guidance.
The revolutionary nozzle system features a predictive gutter build-up sensor, and provides advance notice of the most common potential fault conditions. Alert notifications are displayed on the printer and can be sent to a smart device, allowing for pre-emptive corrective action during line change over, or other planned production stoppage. In addition, the 1860's fluid system features a make-up reserve tank, which can keep the printer in action for up to a full shift, even if a supplies refill alert goes unactioned.
The 45 degree slanted printhead design delivers increased versatility through better line integration, with more mounting options providing closer proximity to the product on the line. The printhead can get as close as 2mm to the product, even in gable top or other angled packaging applications, enabling crisper, higher quality codes. In addition, the 1860 can adapt to a manufacturer's connectivity needs through simple integration with existing factory systems using industry standard protocols such as Ethernet/IP™, Profinet® and high speed network connection.The 1860 has been engineered to fit on virtually any production line through its durability, versatility and adaptability. The intelligent airflow system of the 1860 directs clean, cool air to critical components in the printer, extending the stable operating temperature range to 0-500C, even in the most challenging environments. In addition, the 1860 is available with an IP66 rating, eliminating the need to remove the printer from the line during wash-down.
Building on two years of experience offering remote service, Videojet is excited to launch VideojetConnectTM Remote Service providing operators access to the world's largest service network of technical experts at the touch of a finger, connecting the Videojet technician directly to the line for immediate advice and remote problem solving, allowing for real-time corrective action, and minimising reliance on in-house maintenance teams to deliver increased uptime.
Anthony Blencowe, Global Business Unit Director at Videojet adds, "The predictive capabilities of the 1860, along with the unique nozzle system, provide a CIJ that redefines uptime with enhanced print quality and line speed capabilities. The ability of VideojetConnectTM Remote Service to reduce downtime and allow for manufacturers to focus on their core production activities can drive significant productivity gains. A leading building materials manufacturer utilised VideojetConnectTM Remote Service to improve maintenance and cleaning procedures, resulting in a typical reduction in unplanned downtime by over 80 per cent; while a large brewer stated they could get back to the business of brewing rather than maintaining printers due to the Videojet LifeCycle Advantage™ offerings."
The 1860 was designed with a minimal touch philosophy to help keep operators focused on production, minimising operator interactions and helping to eliminate potential user errors through the advanced Code Assurance capability embedded in the new Videojet SIMPLICITYTM interface. Blencowe continues "The customisable tablet-like interface with a simple menu structure and clear, easy to understand screen makes navigation familiar to users across skill levels. This, together with fully automated rule-based intelligent message creation, reduces the opportunity for mistakes that could impact the production line. The 1860 also has built-in wizards and embedded video instructions, designed to help minimise operator errors."
Videojet also applied a minimal touch philosophy to routine maintenance tasks, allowing them to be performed in line with production schedules. The new SmartCellTM service module simplifies routine maintenance with three colour-coded, easy to replace components that can be changed in minutes, allowing operators to focus their capacity on production rather than maintenance.
As manufacturing, production and coding needs continue to evolve, the 1860 has been engineered as an extendable platform to assist with both present and future printing needs and production processes. Unique software enhancements and VideojetConnect™ Remote Service Workflow Modules can be added after purchase to keep the printer aligned with your evolving production needs.
More info: