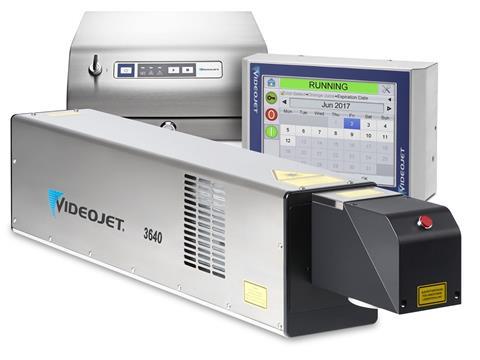 The pharmaceutical market will note that the new Videojet 3640 laser marking system boasts an impressive 600 products per minute which is typically with a 2D matrix and 5 lines of text. It also allows high-speed beverage manufacturers to mark over 80,000 bottles per hour with up to 3 lines of text. With these high-speed marking capabilities, manufacturers can code the required text onto products. This allows them to scale their production into the future, without worrying about the coding system's limitations.
"We know that manufacturers' production demands are growing, and they require high-performance lasers to meet their increasing production speeds," said Sascha Ammesdoerfer, Laser Business Unit Manager at Videojet Technologies. "The improved speed and coverage capabilities of the new 3640 CO2 laser solution means they can now mark more text per product, offering customers a high quality CO2 laser marking solution that customers expect from Videojet."
The new 3640 laser offers the widest marking field in the industry, compared to other leading 60W lasers on the market today, increasing throughput and productivity. It can now cover up to 600mm marking field width, allowing certain wide web applications to be addressed with the least amount of lasers, freeing up both space and capital to invest elsewhere.
"Videojet offers a high-performance laser to meet the highest production speeds in a number of markets, including pharmaceutical, tobacco and high-speed beverage," said Ammesdoerfer. "The vast range of CO2 laser marking systems on offer combine to deliver the marking performance customers need to help them achieve their production goals."
More info