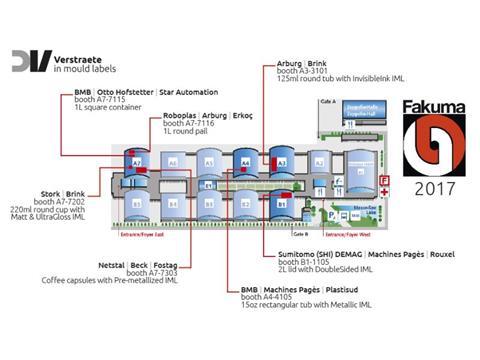 During the 25th edition of Fakuma, visitors will be able to discover in mould labels from Verstraete IML at seven booths.
Dieter Maes, Business Development Manager, reflects: 'It is always a great opportunity to show the multiple innovative look -and feel options an IML label can have. In the past years, innovations such as Metallic IML, InvisibleInk IML, DoubleSided IML and Matt&Ultragloss IML became available and have globally found its market entry. By showing them at the Fakuma show, we confirm standard process parameters are ok to run them. Thanks to over 20 partners, seven machines will show Verstraete IML abilities.'Where to find Verstraete IML labels.
In Hall A4, booth 4105, Italian machine producer BMB demonstrates a 15 OZ rectangular tub with an innovative 5-sided metallic IML label. This metallic IML label makes the product shine and gives it a premium appearance. The robot is produced by Machines Pages and the mould by Plastisud. The system has 4+4 cavities and a cycle time of 7seconds.
Netstal, Beck and Fostag will present a unique product: coffee capsules with a pre-metallized wrap-around IML label. The 4-cavity system has a cycle time of 5 seconds. Every part weighs 1,35g and has a wall thickness of 0.2-1mm. (hall A7-7303).
More innovative labels can be found at the booth of Stork and Brink in hall A7 booth 7202. This team will present a 220ml round cup with a special IML label. Thanks to the Matt&UltraGloss IML label specific parts of the design are highlighted. The possibilities of this look & feel option are endless! This 8 cavity system has a cycle time of 3 seconds. The part weight is 5,8g and the wall thickness 0,36mm.
Automation producer Roboplas will present a round 1L pail with orange peel wrap around label. Erkoç produces the mould and Arburg the machine. The system has 2 cavities and a cycle time of 4,5 seconds. (Hall A7-7116)
Arburg and Brink join forces to present a small round 125ml cup with a unique IML label that is printed with invisible ink. Invisible ink is used to have the ability to check label alignment in the vision system. The part weight is approximately 3,6g and has a wall thickness of 0,32mm. The 4-cavity system has a cycle time of approximately 2 seconds. (Hall A3-3101)
BMB, Otto Hofstetter and Star automation will present a 1L square container. This container will be decorated with an orange peel IML label. (A7-7115)Last but not least, German machine producer Sumitomo Demag demonstrates a 2L ice cream lid, together with mould maker Rouxel and automation producer Machines pages. The lid will be decorated with a DoubleSided IML label. This is an IML label that is printed on both sides and therefore offers twice the printing space of a traditional IML label. The system has 2 cavities and has a cycle time of 4 seconds. The part weight is 11g and the wall thickness 0,35mm. (Hall B1-1105)
More info: