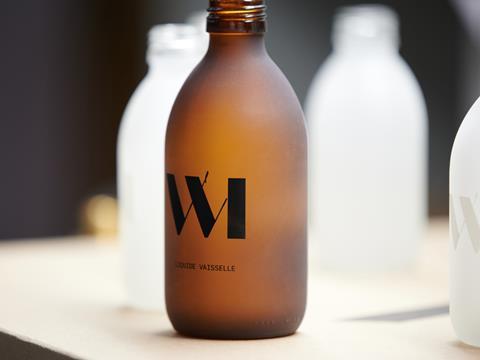 Verescence has partnered with start-up What Matters to launch a range of 100% recyclable bottles with a non-slip effect.
One downside of the introduction of glass bottles into the home and bathroom as a replacement for plastic is that injury can occur in the event of slippage. To combat this, Verescence's new product utilises a soft-touch coating as a second skin which gives a non-slip effect on the glass surface.
Beyond the danger of slippage, Verescence highlights the risk caused by glass fragments that can occur as a result of breakage. The company's solution to this is a very thin layer of polymer that is applied to the glass surface to allow it to absorb shocks and potentially retain fragments. According to the company, this attribute makes the product twice as resistant as conventional glass.
From an environmental point of view, Verescence says that the bottles are 100% recyclable. The hydro-based coating reportedly contains neither solvents nor PVC and meets the standard NF EN 71-3, related to the safety of children's toys.
"Verescence is a pioneer in terms of eco-solutions. In this perspective, the What Matters project, which offers a new way of consuming, is consistent with our approach to sustainable development. Supporting this promising innovative start-up is an investment for the future," states Thomas Riou, CEO of Verescence.
Charlotte Catton, co-founder of What Matters, adds: "We are very proud of this partnership with Verescence, the leader in eco-designed glass packaging, which gave us the opportunity to develop our project by providing its expertise and giving us access to a brand new technology on the market. We are very grateful to the Verescence teams who have shown agility in industrializing this packaging innovation in less than a year."
As a first step, What Matters will present a preview of the first Safety Glass samples at the PCD Congress in Paris, on Thursday, January 30, 2020. The official launch will follow in April 2020.