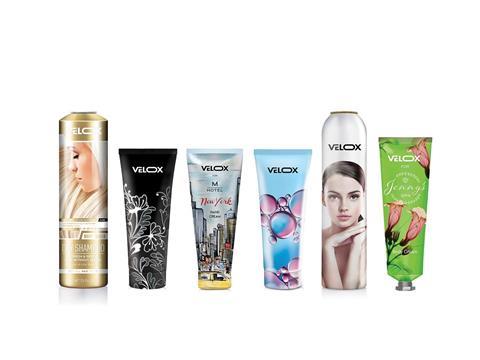 Velox, a leading developer of the world's only mass production direct-to-shape (DTS) digital printing technology, completed a $32 million funding round. The round was co-led by JAL Ventures and O.R.T. Technologies Ltd., and joined by strategic investors ALTANA, Evonik as well as existing investors Michael Ilan Management & Investments Ltd. (MILMI), Dr. Shlomo Shamir, and additional private investors.
With equipment commercially deployed, and multiple high-value strategic global accounts secured, Velox is seen as an industry standout. Velox's uniquely formulated inks and proprietary printing process enables it to take digital printing from the domain of special-editions-only into the mass packaging decoration mega market.
Investor Quotes:
• "Our investment in Velox is an expression of our strategic and on-going interest in high-performance digital printing technologies," said Dr. Christoph Schlünken, member of the ALTANA Management Board. "Velox's technology delivers a performance leap that has the potential to re-shape multiple markets."
• "Velox developed a disruptive technology that for the first time takes digital printing into the mass market of packaging decoration," said Dr. Gaetano Blanda, Senior Vice President and General Manager Coating Additives of Evonik. "Since unique ink formulations are a major element of this technology, we feel this is an ideal match to Evonik's strategic interests."
• "By combining a leading-edge, high-value technology with huge market potential, Velox represents a unique opportunity," said JAL Ventures Co-founder and General Partner Joshua Levinberg.
• "The overwhelming market feedback, coming from both major packaging manufacturers as well as tier-1 global brand-owners, demonstrates the technology readiness as well as market acceptance," added Tamar Raz , O.R.T. Technologies CEO.
• "Velox is on a fast trajectory for defining and dominating a huge market, thanks to its extraordinary team, its proprietary disruptive technology, and the backing of strong strategic and financial investors," said Liora Ettinger, CEO of MILMI, an early investor in Velox.
Velox's industrial digital decoration solution offers an end-to-end replacement to existing decoration technologies in terms of quality, production speed, and total cost-of-ownership in addition to utmost agility and efficiency.
"This investment signifies a new chapter in the company evolution and will be used to accelerate our go-to-market strategy, as well as strengthen our technology leadership," said Marian Cofler, Velox's CEO and Co-founder. "The strategic cooperation with ALTANA and Evonik, coupled with the vast experience of JAL Ventures and O.R.T. Technologies in building leading technology companies, will enable us to reach new achievements in industrial digital printing more quickly. We are proud that such a group of strategic and financial investors have demonstrated their faith in Velox and its future."