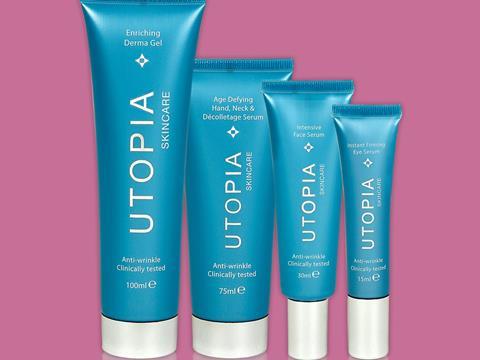 RPC M&H Plastics has recently supplied and decorated the new flexible tubes and metallic closures for Utopia Skincare.
The tubes feature a clean, sophisticated decoration and finish aimed at the mature woman, with silk-screen print presenting the details of the product, topped off with a noticeable yet subtle foil blocked Utopia logo, complimenting the pearl blue of the tube and helping the packaging stand out on the shelves.
Utopia features a range of anti-ageing skincare products designed to bring the best of anti-ageing technologies from all other leading brands into one unique range.
Utopia has one variant of each of their skincare products. RPC M&H Plastics assisted Utopia in creating a family of packaging solutions to be easily recognisable as a set on the store shelves and complement each other on any dressing table at home.
RPC M&H Plastics assisted Utopia from start to finish by providing Utopia with a dedicated contact to assist with any questions and requests throughout the process such as colour matching to ensure the tubes looked natural across the rest of the range.
Utopia says, "RPC M&H plastics really helped us understand our options and helped us create packaging which reflects the cutting-edge technology in Utopia Skincare and its premium position in the market"