Despite making up a relatively small amount of a pack's overall volume, coatings and adhesives can often play an outsized role in terms of sustainability. What are currently the key drivers of innovation in the sector? Elizabeth Staab, Rigid Packaging Global Sustainability Manager at H.B. Fuller, tells us more.
Broadly speaking, for the benefit of readers who might be unaware, what role do coatings and adhesives play in packaging sustainability?
Adhesives and coatings are the enablers of new packaging innovation for sustainable packaging formats, material substitutions and packaging design.
Adhesives offer great versatility and there are solutions for a wide range of applications and, if they don't exist today, H.B. Fuller and the industry are developing new solutions that may be necessary going forward.
Although adhesives and coatings are a small component of the overall packaging, they oftentimes play several vital roles in a package:
As an integral part of the construction of a package including closing it to ensure that the contents arrive safely and hygienically
Providing overall stability and integrity of the package to contribute to a stellar shelf presence when representing the brand
Offering barrier functionalities (moisture, oxygen, grease) and extending the shelf life of the packed foodstuff
When packaging designers draw on the technical expertise of adhesive companies such as H.B. Fuller and consider the entire life cycle of the packaging, including the recycling process, then adhesives and coatings can be selected and customized so that they enable recycling of the packaging.
More specifically, in terms of secondary packaging, how can the use of adhesives make this part of the packaging industry more sustainable?
A great example of this are the new multi-pack formats, which are facilitating a reduction in plastics and packaging overall: for example, the Nature MultiPackTM or KeelClipTM .
Adhesives can power change in the packaging design so that it is more intuitive for consumers to separate materials and sort them into the appropriate recycling stream.
Palletizing is also a good example of how adhesive technology can reduce packaging material used in pallet packaging (slip sheets, reduce shrink wrap) and increase pallet stability overall.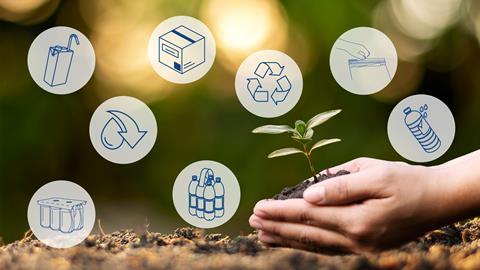 What are some of the challenges that are associated with implementing adhesives into secondary packaging?
When big changes are made to the packaging design, it is advantageous to involve the adhesive supplier right from the start in the development stage. At H.B. Fuller we have been working with various machine builders, brands and packaging material suppliers to create new designs and innovative packaging solutions. Design thinking innovation is a very effective method and involving several parties along the supply chain makes a project so much more successful.
When conceptualizing a new package, many players do not think about adhesives and coatings, rather they assume, that 'they will work' and then 'disappear' in the recycling process. Unfortunately, it is not quite that simple. Collaboration across the supply chain is key to achieving the adhesive and coating functionality to meet packaging performance requirements while also being compatible with recycling processes.
In the flexibles space, where we have seen a strong push towards mono-materials in the past few years, how are adhesives facilitating sustainability improvements?
At H.B. Fuller we have engaged in substantial development efforts to formulate laminating adhesives that are compatible with mechanical recycling.
The laminating adhesive in mono-material substrates is incorporated into film made from recycled material.
The difficulty is direct food contact – mechanically recycled materials cannot be used for direct food contact under EU law. Therefore, secondary markets need to be identified and advanced so that these materials truly become circular.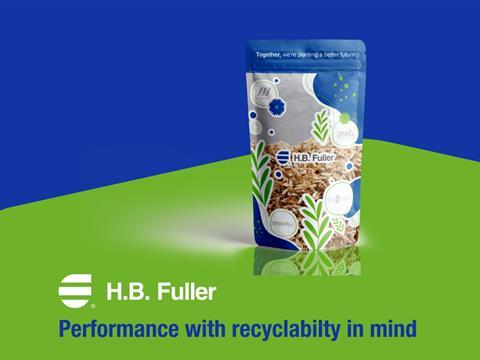 What does the future hold for sustainable coatings and adhesives? Which trends can we expect to evolve in interesting ways?
The focus of R&D will centre on ensuring package recycling and enabling increased package functionality. Adhesives need to be compatible with mechanical recycling processes for flexible packaging. Coatings need to offer barrier functionality for fiber-based and plastic substrates to enhance performance and functionality. And of course there are still as yet, unknown market needs and new raw materials that will influence the direction of the development work.
Working with new types of raw materials, whether renewable or from alternative streams such as recycling or waste streams, as well as coming up with solutions to assist with sortation in recycling plants, will be equally crucial. The possibilities are endless.