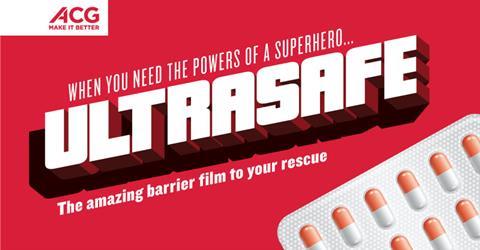 This edition of our Innovation Spotlight sees ACG introduce Ultrasafe – a brand new thermoformable film.
Ultrasafe from ACG is an ultra-high barrier thermoformable film that is manufactured by coating pharmaceutical grade polyvinyl chloride (PVC) with Solvay's Diofan® Super B polyvinylidene chloride (PVdC). Diofan® Super B, a superior grade of PVdC, is a unique co-polymer that gives Ultrasafe its exceptional moisture and oxygen barrier.
This is in contrast with other available blister packaging films that offer just one of these barrier properties. This thermoformable film, created by cutting-edge technology, is designed to meet and exceed the packaging needs of the pharmaceutical industry. It is an alternative to traditional packaging solutions for push-through blisters.
Advantages
Optimum barrier: Ultrasafe offers optimum barrier properties with respect to both moisture and oxygen; this in contrast to the other thermoformable packaging films for pharmaceutical applications. It also prevents loss or pickup of aroma and flavour. Further, it offers exceptional protection that is comparable to, or even better than, the barrier offered by PCTFE films.
Good seal integrity: Ultrasafe films offer strong seal integrity that can be achieved even at high speeds and require no specific tooling modification. This makes them simpler, cost-effective, and robust packaging solutions. The PVdC side of Ultrasafe can be used to seal (if the lidding foil has a compatible adhesion system) at 120°C, which is much lower than that of PVC based structures that seal at 160°C on flat bed machines. This enables machine technicians to enhance the blister packaging speed for increased production.
Outstanding optical properties: Ultrasafe films help produce transparent, clear blisters. This enables easy inspection of blister packs. Patient compliance is also known to increase since this makes it easier for patients to monitor their regime. It also helps build brand differentiation by giving every product a unique identity.
Pack size reduction: When compared to cold form blister packs, the blister fabricated from Ultrasafe offers the twin benefit of a reduced pack size and an increased pill density. Blister pack size can be reduced up to 60% depending upon the pill size. This helps lower the amount of packaging material that is required for packing the same number of pills, which in turn brings down the material cost. Reduced pack sizes require less storage space, which allows for more packs to be transported. Additionally, patient compliance also increases because small pack sizes render better portability and help patients administer their doses at their convenience.
Production efficiency: Ultrasafe can generate angle cavities that are steeper and deeper than those generated by strip/aluminium blisters. Unlike other conventional films, Ultrasafe films do not exhibit blister curling issues post-thermoforming, and thus eliminate the need for stiffening the rib. Ultrasafe exhibits robust sealing properties with majority of the conventional materials and improved production rates and it is highly flexible and elastic, which assists in enhancing the production rate.
No special tooling: Unlike aluminium-based laminates, Ultrasafe films display high flexibility and run well on different types and speeds of blister packaging machines. These films can be produced using tools or moulds which are designed for PVC or regular PVdC coated films. This ultra-high barrier film does not require any special conditions or mould modifications to run on any blister packing machine.
Ultrasafe was developed by ACG in collaboration with Solvay Laboratory, using new-age technology. Its excellent barrier properties and superior machinability are a direct result of appropriately controlled quality of its raw materials and processing parameters.
This new-age technology offers a significant degree of customisation and flexibility compared to alternative laminated structures.
Click here to learn more about Ultrasafe.
This content was sponsored by ACG.