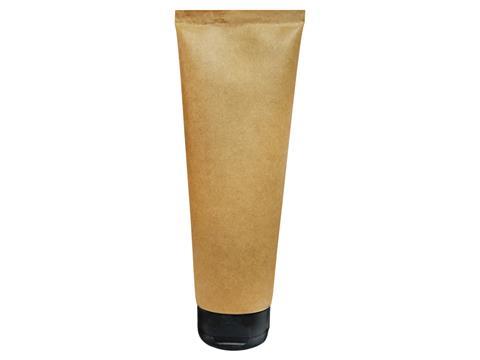 UFlex, an Indian multinational in the flexible packaging space, has revealed the latest addition to its FlexiTubes range – a paper-based tube pack.
According to a press release from the company: "The range provides all the critical features required for a successful pack – aesthetics to create shelf appeal, barrier properties for protecting the contents, and anti-counterfeit features for brand protection."
KRAFTIKA, the latest entrant to the range, has been designed with the aim of creating a positive impact on the environment, as well as consumers, by reducing the use of plastic at source.
The new tube uses moisture-resistant kraft paper sandwiched between layers of plastic in its body, reportedly enabling the reduction of plastic by 50% to 70% depending on the application and tube diameters.
UFlex reports that the virgin kraft paper used for the tubes has low Cobb value (low moisture absorption) and high burst value (tube integrity). Meanwhile, the paper is also FSC certified and the company claims that it provides stiffness to the body of the tube while allowing for "excellent bounce-back properties".
This feature also reportedly prevents the collapse of the tube even after continuous use and reduction of the contents.
The KRAFTIKA tube has all the properties and features of FlexiTubes, including reverse printed high-end graphics and barrier properties. Additionally, the company argues that the natural look of kraft paper provides an organic aesthetic to the tube.
The new product is available both for plastic barrier laminate (PBL) and aluminium barrier laminate (ABL) structures for varied applications like oral care and cosmetics, including face wash, gels, and creams.