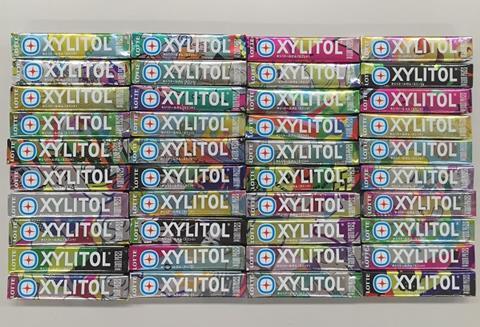 Japanese brand Lotte is now selling more than 2 million of its Xylitol chewing gum brand in unique packages printed using HP Indigo technology to mark the product's 20th anniversary, in a campaign designed to engage with millennials. The packages feature the artwork of 20 groups of Japanese in their twenties who were invited to create their image of the future for the limited edition packages.
Toppan Printing of Japan printed the packaging on the HP Indigo 20000 Digital Press with the unique variations created by HP SmartStream Mosaic variable design technology. The HP Indigo 20000 was selected because of its ability to meet the strict brand requirements of Lotte to print high quality and high volume on film.
The HP SmartStream Mosaic algorithm automatically generates unique graphics from seed patterns, producing one-of-a-kind prints suitable for a wide range of digital printing applications. Using 20 patterns created from the 20 design groups, the packages were transformed into more than 2 million unique packages.
"In order for us to take the next step, we decided to create uniquely designed packages expressing the vision of the future from the top 20 influential Japanese groups aged in their 20s," said Takashi Fukuda, Manager at Xylitol brand team, Marketing, Lotte Ltd. (Japan). "By creating a vision of the future together with today's young generation and a unique experience for our customers, we are able to engage and connect the No.1 gum brand in a new and inspiring way."
More info: