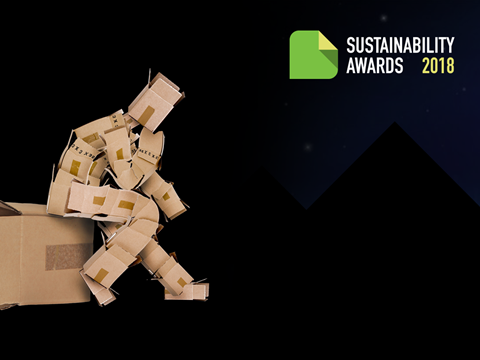 Submissions for the fourth annual Sustainability Awards have been are open for just another two days - closing on 15th May.
Packaging waste, climate change and other environmental problems demand an urgent and coherent response from the CPG industry. All too often innovations are marketed as 'green' based on gains in a single metric, when the complex landscape of ecological challenges requires a holistic approach. The Sustainability Awards 2018, organised by Packaging Europe magazine and hosted at Scanpack, Gothenburg, sets out to connect the dots.
The Sustainability Awards categories spotlight each of the key areas of innovation where the environmental footprint of packaging and packaged goods can be reduced, from resource efficiency to recycling, biomaterials to greener packaging machinery, and driving best practice at the brand owner and retailer level. Moreover, across all categories the judges are instructed to favour holistic solutions over those whose gains in one area may be offset by negative side-effects in others.
A core principle of the Sustainability Awards is that it is judged by an independent panel of internationally renowned experts representing the whole value chain. This year's 17 judges span sustainable packaging design, packaging and sustainability industry organisations, brands and retail and waste management. The judging panel comprises:
Virginie Helias, VP Global Sustainability, P&G
Jean-Marc Boursier, Senior Executive VP in charge of Recycling & Recovery Europe, SUEZ
Bruno Van Gompel, Technical & Supply Chain, Coca-Cola Western Europe
Dr Mats Linder, Ellen McArthur Foundation
Arno Melchior, Global Packaging Director, Reckitt Benckiser
Annika Olsson, Professor and Head of Packaging Logistics Division, Lund University
Kevin Vyse, Circular Economy Lead, M&S
Virginia Janssens, Managing Director, EUROPEN
Michael Nieuwesteeg, Managing Director, NVC
Graham Houlder, Project Co-ordinator, CEFLEX
Thomas Reiner, Chairman, Deutsches Verpackungsinstitut (also CEO, Berndt+Partner GmbH)
Paul Vanston, CEO, INCPEN
Tracy Sutton, Circular Economy Packaging Design Consultant (and founder of Root)
Antro Säilä, CEO, Suomen Pakkausyhdistys ry
Haulwen Nicholas, Founder, The Packaging Oracle
Sanjay Patel, Founding Partner, Simple Better Human and The Packaging Collective
Paul Jenkins, Managing Director, The Pack Hub
Anna Lena Friberg, exhibition manager at Svenska Mässan, commented: "Scanpack is delighted to have Packaging Europe as its Content Partner. It's an honour to have the opportunity to host the Sustainability Awards, which is internationally recognised as the most prestigious and rigorous competition promoting sustainable innovation in packaging. Together with the Sustainable Packaging Summit, this will be a high-level and timely contribution to the critical environmental challenge facing the packaging industry and a highlight of our event."
"In marking the most significant advances in sustainable packaging, the Sustainability Awards aim to focus attention on the possible," commented Tim Sykes, Packaging Europe's head of content. "The initiative stimulates debate but also promotes adoption and cross-fertilisation of the enormous amount of innovation taking place in packaging technology, whether in the form of early-stage R&D, fully launched solutions or cross-industry collaboration projects."
The Sustainability Awards 2018 comprise six categories with one overall 'Best Sustainable Packaging Innovation' chosen from the winners of the sub-sections. Winners will be announced on 23 October at Scanpack in Gothenburg, Sweden, in conjunction with the Sustainable Packaging Summit, hosted by Packaging Europe.
For full details and submissions guidelines, visit: sustainabilityawards2018.com