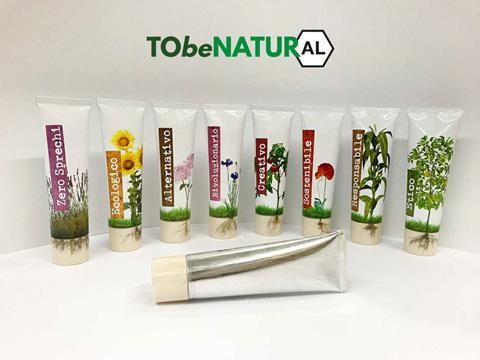 Tubettificio Favia is proud to present the latest addition to its collapsible aluminium tubes range: ToBeNaturAl, the completely green evolution of ToBeUnique.
The company aims to respond to the increasing demands from the marketplace: consumers are showing a greater awareness of environmental issues by changing their purchasing choices based on ethical criteria. Brands, especially those who openly call themselves 'green', are held accountable in every aspect of the production chain, including choices regarding packaging.
And this trend seems to be set to grow, as demonstrated by the viral success on social media of environmental initiatives, such as the documentary 'Journey of a plastic bottle' by the Italian explorer Alex Bellini or the 'no box toothpaste' campaign launched by the YouTuber Alan's Theory against secondary packaging considered superfluous, or the media impact of charismatic characters like the young Greta Thunberg.
After the European Union banned disposable plastic last year, public attention is increasingly focused on brands and their approach to packaging. The adoption of sustainable packaging by brands can become a strong driver to stand out on shelf. The packaging industry is therefore called upon to provide new solutions capable of maintaining high quality standards but at the same time understanding this new widespread sensitivity.
Tradition and innovation
Tubettificio Favia decided to develop a technological solution that combines both tradition and innovation to produce a sustainable solution. ToBeNaturAL was the result- consisting of a collapsible aluminium tube with a biodegradable closure cap. Collapsible aluminium tubes are already identified as an excellent example of "green" packaging for the properties of aluminium.
Favia focused its production solely on collapsible aluminium tubes due to the sustainability of the material. Tubes caps, however, are generally manufactured in hard plastic. Now, with ToBeNaturAL, there is an alternative to plastic that turns the whole tube into a "green packaging": a bio-technopolymer called IamNature®, developed by the Italian group Maip, which recently won the international Bioplastics Award. The innovative material was transformed into capsby Aba Srl, a leading company in plastic moulding for the cosmetic and pharmaceutical industries.
The aluminium tube can be recycled and the bioplastic capcan be thrown directly into the household organic waste after use, turning into humus for the soil- food for plants.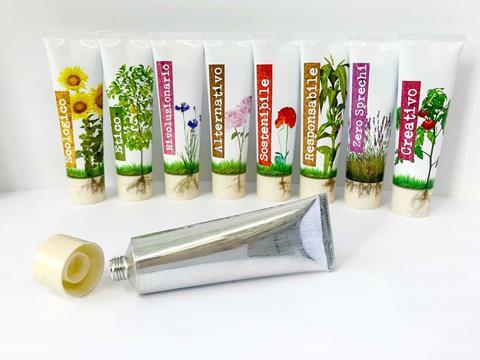 ToBeNaturAL lends itself to all digital printing processes on aluminium, including traditional offset printing and ToBeUnique, the exclusive Favia digital printing technique that involves both the aluminium tube and the capin a single process. For quality graphic rendering, the uniqueness of the ToBeUnique print is considered a valid anti-counterfeiting solution.
It is also possible to implement StealthCode® technology with ToBeNaturAL, a code invisible to the human eye that can be detected through a special free mobile app, available in the official iOS and Android stores. With this smart solution, any part of the tube can be scanned to be redirected to exclusive digital contents, such as a video, text, landing page or survey. As a result, StealthCode® makes secondary packaging superfluous and turns green packaging into a digital communication tool, with a big difference compared to a QRCode: it does not disturb the graphics and is impossible to counterfeit.
This content was sponsored by Tubettificio Favia.