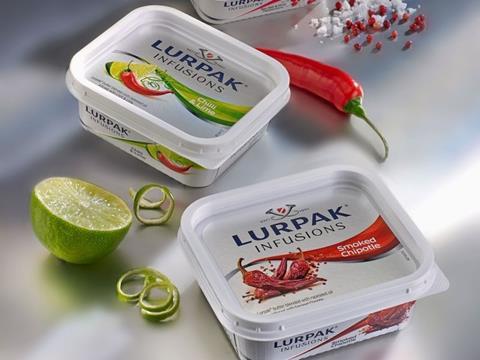 RPC Superfos's CombiPac® tub is being used to pack a new range from the UK's favourite butter and spreadable brand. The line extension for Lurpak Spreadables offers tasty new infusions, but the pack retains the well-known silver shine from the parent brand.
Packaging plays a major role in distinguishing a brand on shelf and at home, with colour an inherent part of this. For this reason, Arla Foods UK wanted to keep the silver base in the packaging for its new Lurpak Spreadables Infusions.
"Globally, the silver colour is recognised as a characteristic for Lurpak butter, so there was no doubt in our minds: the new pack for the new spreadable butter variants must match our existing packaging for Lurpak butter and spreadable butter," explains Daniel Morales-Gonzalez, Senior Global Brand Manager at Lurpak, Arla Foods.
Ideal for butter, yellow fats and dairy products, the CombiPac® tub offers a unique combination of plastic and cardboard. The outer part is made of cardboard, providing light barrier protection and ensuring a lightweight pack. The inner part consists of a thermoformed plastic sheet, protecting the edible content and making the pack grease resistant. To meet the precise needs of Arla Foods, the regular pack was slightly adapted so that both the lid and tub are thermoformed and the size made slightly smaller, so that it is perfect for picnics.
"We offer our consumers a new taste experience, all the while making the connection to our iconic Lurpak brand through the silver shine. The CombiPac® packaging solution from RPC Superfos gives us a positive stand out on-shelf," concludes Daniel Morales-Gonzalez.
More info: