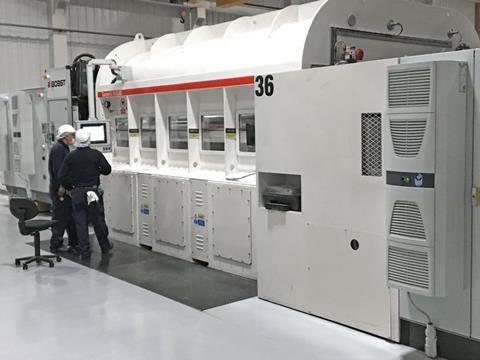 Treofan have recently installed a new BOBST K5000 3650 mm wide metallizer; the investment replaces two old and inefficient metallizers with a machine equipped with the latest innovations and technology from BOBST who are the market leaders in the field of vacuum metallizing machinery.
Treofan invests in new technology
The move highlights Treofan's strategy to invest heavily in the latest technology to modernise their manufacturing plants. The new BOBST metallizer in the Mexico plant follows the installation of a 8.2m BOPP Film line back in 2007 also in Mexico and more recently in October 2015, the new 8.7m BOPP film line installed in the German plant.
Treofan are a high end specialty BOPP film producer with a clearly differentiated product portfolio including solutions for packaging, labels and tobacco industries as well as technical films for electronic applications. The Treofan group employs around 1,100 people around the world at four production sites in Germany, Italy and Mexico. The company's products are sold in more than 90 markets worldwide.
Trend for wide web metallization
The installation of this new BOBST K5000 3650mm machine adds to the impressive number of BOBST wide web metallizers already sold. This reinforces the trend in the market for film producers to produce wider and wider metallized film which results in high output and reductions in cost leading to higher productivity. This addition to the BOBST wide web metallizers already in the market again demonstrates BOBST's ability to be at the forefront of innovation in the wide web market. The K5000 is equipped to run large diameters at high speeds whilst maintaining the cool temperature of the film and protecting the barrier.
Commenting on the purchase Allan Crighton, Chief Operations Officer Americas from Treofan said "The purchase of this new BOBST metallizer is in line with Treofan's strategy to grow in the Americas. The new metallizer allows us to further strengthen our position as one of the leading suppliers of high performance BOPP films in the region".
More info: