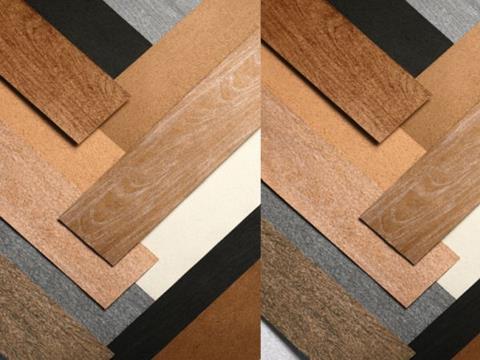 The grain, knots, and veining that nature has stamped into timbers are at the heart of the new Icma sartorial paper© collection Woods.
It is a collection of papers for packaging and corporate image that responds to the luxury brands' request for naturalness with a touch of artistic interpretation.
Some references of the Icma Woods series will be previewed at Packaging Première. The series consists of two product families belonging to two diametrically opposed ways of interpreting the inspiration.In fact, part of the collection is dedicated to the faithful reproduction of what is created by Nature, time, and the weather, which have left their indelible mark in the timber. The textures are real, evident, and palpable.Another set of papers proposes graphic elements as an artistic revival and in accordance with the principles of cabinet-making, overlapping and intersecting the grain created by the growth of the trees. The result is an aesthetic composition that transcends the real with the addition of a stylized manner or unexpected etching.
The colours are those selected by Nature, from light sand to denser colouring tending towards brown hues. Strong colours, such as shades of blacks, are also present, along with tone-on-tone bi-colourations in sophisticated harmony or strong contrast to give depth and decomposition effects. Art directors can then add their personal contribution to devise truly unique packaging, communication, and corporate publishing materials.
The Woods collection is available in various weights (paper and thin or thick cardboard) suitable for processing and finishing operations.
To make the new Woods collection possible, Icma has invested in the manufacturing process with new machines and techniques. These are exemplary of the company's know-how, which, since it was established in 1933, has been continuously modernised.
The world of luxury has long been searching for naturalness, authenticity, and purity, both to meet the demands of increasingly conscious consumers and to be consistent with its own ecologically sustainable choices. Icma has always set up its production cycles with respect for the environment and for the specific landscape values of the area in which it is located.
Among other things, the Icma Woods collection also includes finishes created on FSC (Icma has had this certification since 2009) and kraft papers, which today are still the most natural aspect of the paper industry. The wood finish is created by Icma reusing 100% water from the manufacturing process, together with energy accumulated through a photovoltaic system which, in the sunniest periods, covers the company's energy requirements in whole.
Packaging Première Icma will be present at: Booth A 11, p.za Bo Bardi 1, Milan, 16th-17th-18th May 2017
More info: