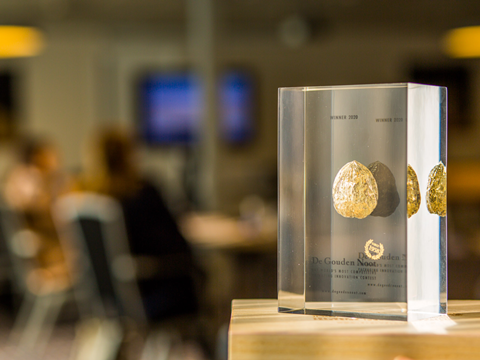 The award ceremony of the 30th edition of the packaging innovation contest De Gouden Noot is set to take place tomorrow, Thursday 8 October 2020.
The entire event can be followed live from any location in the world via a live stream starting at 7.30 PM CEST, while the winner of the award itself will be announced at 9 PM CEST.
The organizer of the awards, NVC Netherlands Packaging Centre, seeks to stimulate "holistic" innovation in packaged products and packaging. The contest has no subcategories; all entries are judged on their overall innovativeness.
The contest owes its name to the unique winner's trophy containing a solid gold walnut, a symbol for sustainable, effective, and innovative packaging.
The judging itself took place in two rounds and was overseen by an independent jury with members from across the packaging value chain, led by Professor Renee Wever of Linköping University, Sweden.
In the first round of the judgment, ten finalists were selected from a maximum of forty entries. Non-finalists received a report containing the jury's findings on their entry.
In the second round of the jury, the finalists will each be given the opportunity to present their entries to the entire jury, who will then decide which entry wins the Gold award and which one wins the Silver and Bronze.
Click here to register for the live stream.