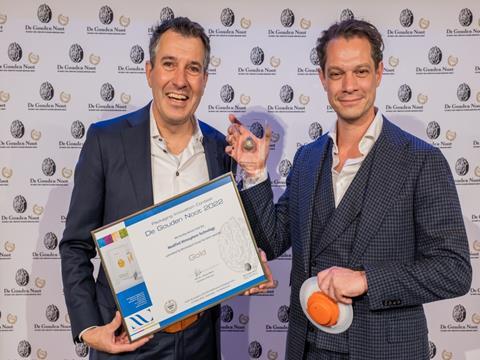 NVC Netherlands Packaging Centre has announced the winners of this year's De Gouden Noot competition, with Masterpack Group taking home the golden walnut trophy for its application of Modified Atmosphere technology to FIBCs.
Masterpack's innovation is said to extend the shelf life of food products 'from months to years' without the risk of contamination. It is reported that a wireless sensor can be attached to an 'MA Valve 125' inside an airtight inner bag, which monitors the oxygen, temperature, and humidity levels within; this replaces the previous technique of inserting a needle into the packaging and the product itself.
PACKSYS GmbH is the runner-up for its refillable Capsule Dispenser, which supposedly allows medical patients with restricted motor skills to easily access their prescription medication without compromising the safety of the product or increasing the environmental impact of the packaging. Consumers can push the dispensing actuator, releasing one capsule into the dosing cup to avoid the patient having to handle their medication directly.
In third place is Mibelle Group, with the company utilising carbon dioxide to produce PET bottles in collaboration with LanzaTech. The process reportedly involves converting CO2 into ethanol to produce MEG, which is then combined with PTA to produce PET. Around 30% of a bottle is said to have been made using this process, with the CO2 also undergoing fermentation to produce ethanol.
Other finalists include Hoffmann the Tin, Pulpac, Van Dam Machine Europe BV, Kraft Heinz, Avery Dennison, EPG Industries, and Hordijk Verpakkingen. A full list of their submissions can be found on the NVC Netherlands Packaging Centre website.
Next year's De Gouden Noot nominations will open on 4th May 2023 and close when the maximum of forty entries is reached.
Siegwerk's UniNATURE packaging inks and Amcor Healthcare's HDPE-based pharmaceutical and nutraceutical blister packaging system were among the winners of this year's Sustainability Awards.
Meanwhile, Pentawards 2022 rewarded Urban Forest Lifestyle for the silicon packaging of its Pocket Neck Pillow, also commending Ruska Martín Associates' '100% sustainable' glass bottles for spirits and Elisava's utilisation of FORMcard and PHB to create reusable toothbrush packaging.