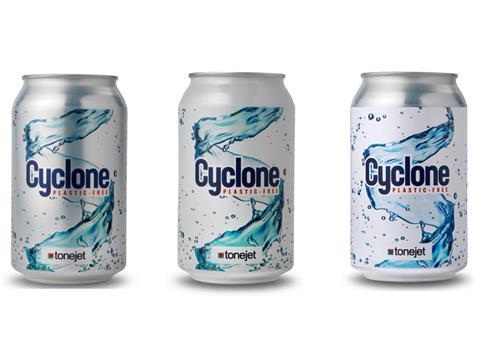 For our latest Innovation Spotlight feature, Tonejet introduces its recently-launched Cyclone C4+ direct digital can decorator, with beta trials soon to be under way at a lead customer in Canada, a second system due to ship later in 2021, and more on order.
The Cyclone C4+ uses a longer variant of Tonejet's unique electrostatic printhead, enabling it to decorate can formats up to 500ml with one printhead per colour. Conventional inkjet systems use arrays of much shorter printheads which must be precisely aligned to avoid visible banding in the printed image – the Cyclone C4+ avoids this potential failure mode completely.
The Cyclone C4+ is built on the same platform as the C4 which preceded it, with a long list of updates including a new user interface, simplified ink refills and active adaptable can handling which permits rapid changeovers between can sizes.
Tonejet supply the Cyclone C4+ as part of a pallet-to-pallet decoration line which is available in 60 and 120 can per minute configurations. As well as a depalletiser and repalletiser, the system includes Tonejet's proprietary Can Primer.
As can decorators know well, the can manufacturing process often leaves traces of machine oil on the neck of the can. Whilst this is washed off prior to filling, it is still on the can surface when it is printed.
The Tonejet Can Primer cleans incoming cans and applies a thin film of ink-receptive primer fluid, ensuring outstanding adhesion and abrasion resistance once printing and over-varnishing (which all takes place within the Cyclone C4+) is complete.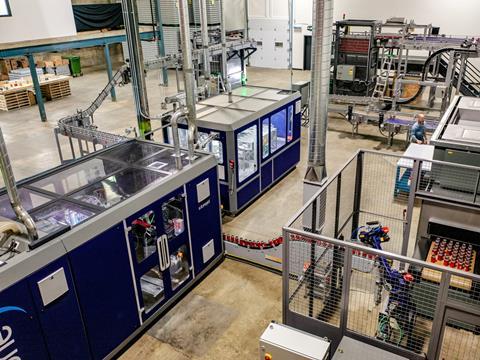 This total system approach enables our customers to work with blank cans from any source, with no need to pay for pre-cleaned or washed cans.
Alongside this Tonejet has released a new bright-white primer fluid, allowing our customers to produce outstanding high contrast images with brighter whites and punchier colours than could previously be achieved with factory-supplied white cans.
Tonejet bright-white primer achieves the same results whether used with brite (clear-varnished aluminium) or white cans, meaning that Tonejet's customers no longer need to purchase blank white cans and can standardise on brites.
During the recent can shortage, blank white cans have been harder to find and hence more expensive than brites, with some can makers considering stopping production of white blanks in the future.
Tonejet's most recent installation at Bevcraft in Peterborough, UK is coming online and decorating 330ml cans for the European market. Bevcraft, Solucan (Canada) and others like them offer craft brewers and big brands alike unprecedented supply chain flexibility.
New can designs are turned around and produced in days rather than months at a lower cost than sleeves or labels, whilst preserving the infinite recyclability of the aluminium can.
This content was sponsored by Tonejet.