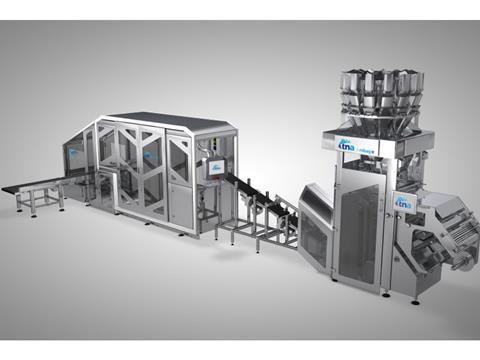 tna has unveiled the tna robag® 5, the industry's first ultra-high speed VFFS system at SNAXPO in Atlanta, USA.
Offering speeds of up to 300 bags per minute on a single tube design, the new bagging system is the final element in tna's complete ultra-high speed packaging solution – tna performance 5.0.
The new tna robag 5 comes with a new high-performance scale, continuous motion ultrasonic back seal technology and a new advanced controls platform. Together with the recently released tna ropac® 5 case packer, the new tna robag 5 will transform production line efficiencies by more than doubling the industry's current average packaging speeds within a single, fully integrated and highly compact packaging solution.
Specifically designed to deliver the fastest packaging speeds in the industry, the new tna robag 5 has been equipped with a range of new innovative features. This includes the tna intelli-weigh® 0220 omega high-speed scale. Featuring 20 weigh heads, this ultra-high precision scale is capable of combining different products, while offering fast and accurate product transfer with minimum waste. In addition, the integration of ultrasonic back seal technology has enabled tna's engineers to overcome the thermal transfer limitations of traditional heat seal methods to provide superior seal integrity even at high speeds. Together with the new tna intelli-date® 5 date coder, these new innovations enable the tna robag 5 to operate at unsurpassed speeds of up to 300 bags per minute from a single tube, while reducing the amount of waste, ensuring that each bag meets the highest quality standards.
The new tna robag 5 is manufactured in a high-grade stainless steel to reduce the risk of corrosion and deliver an advanced level of food safety and superior equipment longevity. In addition, the tna robag 5 is equipped with the latest controls technology, including a new real-time CXE controller that reduces maintenance costs and downtime by supplying manufacturers with instant, highly detailed system diagnostics. At the same time, tna's intelli-sys® software provides a single point of control for the complete line, whether that's for a central controls center within the plant as part of a remote management solution.
"The food manufacturing industry is changing rapidly at the moment," comments Alf Taylor, CEO at tna. "In particular the packaging end of the production line has seen some huge increases in speed in the last decade. When we released the first tna robag in 1984, nobody believed that we'd be able to double packaging speeds with the launch of a single innovation. Fast forward 34 years and we're about to show the industry that we can do it again. With its ultra-high bagging speeds, intuitively designed smart technology, faster changeovers and advanced equipment integration, the new tna robag 5 will once again re-define industry standards. More importantly, it will do so within a single, highly compact VFFS system. This basically means that the tna robag 5 is capable of the same, and in some cases, even higher levels of throughput, as two individual baggers, opening up a whole new world of possibilities for snack and confectionery factories that are limited in floorspace.
Taylor adds: "But we've also been around long enough to know that it's not all about speed or being the fastest. Packaging technology needs to deliver a significant economic advantage, whether that's a low reject rate or a small factory footprint; ultimately the system has to generate gains at the bottom line. With performance 5.0, we're able to provide a fully integrated packaging solution that is not only fast, compact and intuitive, but that also delivers the industry's lowest cost of ownership by enabling manufacturers to convert twin lines to single packaging lines. We're incredibly proud of how far we've taken the industry up until now and can't wait to demonstrate the results to our customers."
Launched at the beginning of last year, tna performance 5.0 is a revolutionary, fully integrated packaging solution, comprising of the tna robag 5 VFFS system and the tna ropac 5 case packer. Together, these ultra-high speed solutions deliver the industry's fastest packaging speeds at the smallest factory footprint. To find out more about the new tna robag 5 visit the tna website or see it live at Snaxpo, booth 417.
More info: