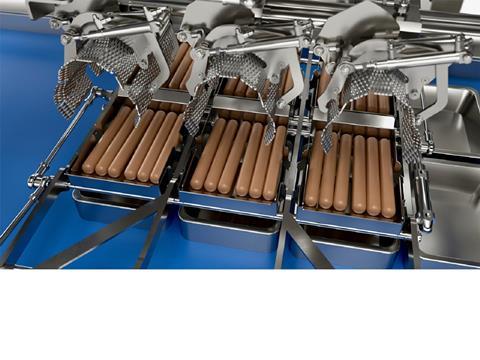 Cabinplant, a leading global provider of tailor-made processing solutions for the food industry, gears up for Anuga FoodTec 2018 with three major product launches: a ground-breaking, yet simple solution for monitoring performance and providing valuable data for optimization of process lines, an Automatic Sausage Depositor that reduces manual labour dramatically, minimizes giveaways, and offers quick product change-over, and a continuous Liquid Filler for accurate, high-speed filling of liquids with small particles into cans, glass jars etc. Doubles capacity without spillage
Performance data made simple
'Data is king' and therefore many Cabinplant clients demand simple and easy monitoring of performance on their process lines. The new Integrated Report System collects data continuously from the whole process line or from parts of it. The solution offers a ground-breaking level of flexibility as it collects Overall Equipment Efficiency (OEE) data from Cabinplant-solutions as well as third-party products.
The Integrated Report System is a powerful management tool to optimize production flow and uncover bottle neck issues that otherwise can be notoriously hard to identify. Regarding weighing and packing, the new solution makes it considerably easier to accumulate reports for clients documenting for instance the weight of delivered packages.
Cabinplant launches the Automated Performance Information and Monitoring-solution as a simple and scalable platform, open source based, and fully compatible with the existing MES- and ERP-systems. Reporting is optional at either machine or process line level and all data is collected in a web-based database.
- It is a very simple solution that maps out where to increase the utilization of the plant. It is easy to install, scalable and an economical choice. And it emphasizes our focus on delivering comprehensive solutions and low TCO to our customers, says Michael Falck Schmidt, Sales Director at Cabinplant. He continues:
- We see the solution as a strong, affordable alternative to extensive and costly software-systems. We have high expectations for the solution and have chosen to set up a section of the stand to demonstrate the system.
From chaotic portion to trimmed pack
Sausage packing has traditionally been carried out on highly labour-intensive machines, where operators ensure that sausages are arranged in orderly layers, ready for packaging. The Cabinplant Sausage Depositor takes over this role, quickly adapting to a wide variety of sausage and pack sizes.
The Sausage Depositor is applicable for sausages, cocktail sausages, meat balls or similar products. It has an efficient alignment and handling of sausages, and handles multiple layers of products and various formats. Thanks to the gentle and vibrating action that conveys and aligns the sausages, the product damage is close to zero compared to conventional conveyor systems with up to 5% product damage.
In a unique combination with a multi-head weighing machine, the weighing of the sausages results in a significantly reduced give-away (the extra grams that manufacturers allow in each pack to ensure the actual weight is always above the stated weight on the label). Further the product change-over is fast and can be done in less than 15 minutes which reduces the downtime of the processing line significantly.
Faster liquid filling with no spillage
Third product launch by Cabinplant at Anuga is the Continuous Liquid Filler (CLF) that ensures precise pre- or final filling of liquids like tomato sauce, oil and brine, soups, or marinades into containers such as cans or glass jars.
CLF is a high-speed solution that doubles capacity and constitutes a flexible and economical alternative to, for example, a major investment in a rotating piston filling line.
Thanks to a special designed filling valve, the dosed liquid follows the opening of the container. It not only doubles the speed, but also avoids spillage. The capacity of the CLF is up to 300 glasses/min for a single processing line and it can handle liquids containing small particles. The final filling is very precise and facilitates on-the-fly adjustment of the dose to secure that the weight of each container is on target.
The change-over time is down 1-2 minutes when changing the size of the container. It only takes adjusting the filling height and selecting the recipe. Further, it is a compact solution that is easy to apply to the filling line and to switch over to other lines in minutes.
- The Continuous Liquid Filler has great potential for clients looking to speed their production up and to decrease their TCO, says Michael Schmidt Falck, and he concludes:
- We look very much forward to present our new solutions alongside our well-known products at Anuga FoodTec as it provides a unique opportunity to get invaluable feedback from existing and potential customers.
More info: