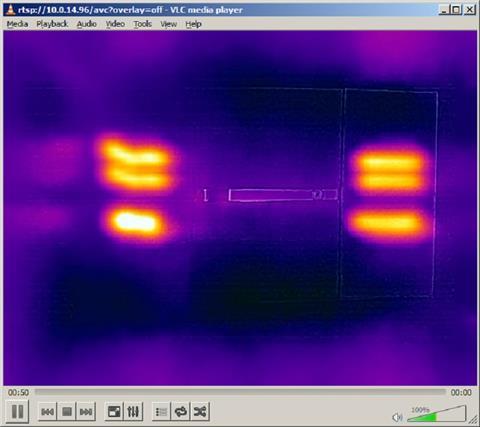 To check the integrity of its cardboard packaging, Recochem - a manufacturer of household chemical products and automotive fluids - used to extract boxes from the production line for destructive testing to establish if the hot melt adhesive had been applied in sufficient quantity and accurately.
It was a time-consuming and expensive task but, thanks the FLIR thermal imaging, quality control is now fully automated and only sub-standard boxes are scrapped.
In its search for an efficient glue monitoring system, Recochem initially tried single-spot IR sensors to pick up the thermal information from the hot glue spots. As sensor positioning proved difficult and the method could only detect glue applied on open flaps, the decision was taken to explore thermal imaging.
To prove the suitability of the technology, the company initially purchased a FLIR TG165, a hand-held device that bridges the gap between a spot thermometer and a fully fledged thermal imaging camera.
"We used the FLIR TG165 to have a look at some of the boxes coming off the production line and the camera clearly showed the location of hot glue spots," explained Adam Wolszczan, Recochem's Plant Engineering Manager. "What's more it was able to 'see' through the cardboard to check the pattern and size of the applied hot melt adhesive. This meant that it was no longer necessary to destroy boxes for inspection."
Next step was to explore a FLIR thermal imaging solution optimised for automated inspection and the decision was made to invest in a FLIR AX8, fixed mounted thermal imaging camera. This is now set-up to look at pre-defined areas of the flaps where the glue should have been applied and to verify the size of glue spot and its temperature.
Thanks to its compact size, the FLIR AX8 can be installed in such a way as it could look at the bottom of the box and the acquired video images can be viewed by an operator on a dedicated screen. If the glue gun is delayed there is a corresponding position shift of the hot spots, so the operator instantly knows when something is wrong.
Adam Wolszczan continued: "It's very straightforward and effective, enabling us to spot quality problems much faster. We are not only able to offer a better product to our customers, we also save a lot of time. If you consider that previously, our operators needed to destroy a box every 10 to 15 minutes and that our production line is operational five days a week for most of the year, you realise the time and cost savings are significant.
More info: