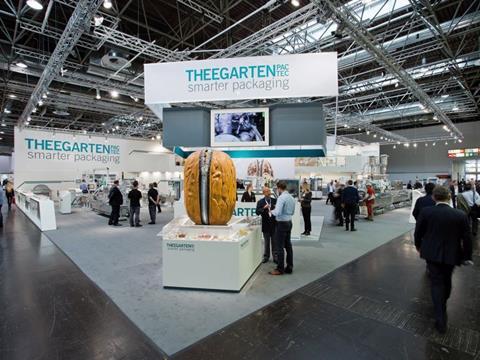 Theegarten-Pactec's resumé of this year's interpack fair includes several successful contracts, numerous visitors and a high degree of internationality and professional expertise.
With a total of eleven exhibits, the company presented the wide diversity of wrapping styles and the high performance of its machines for packaging small-pieced confectionery and other products. At the same time, visitors to the fair had an opportunity to experience the new user interface live, with which all packaging machines are equipped as standard and which allows intuitive machine operation even by mobile devices.
Theegarten-Pactec presented its innovations at the world's leading trade fair for the packaging industry. Of particular interest was the new total solution for powder or granulate compression with subsequent primary packaging in flow packs. The system combines the proven FPC5 packaging machine with units from AZO and Romaco Kilian.
Another highlight was the new CFW-D high-performance packaging machine, which achieves a new record in the confectionery industry. It packs moulded or coated chocolate products such as napolitains or small pralines with an output of up to 1,400 products per minute in fold wrap, with or without sleeves.
The Industry 4.0 topic was the highlight for the innovations presented at the booth. All Theegarten-Pactec machines are equipped as standard with a new machine control system and a redesigned user interface. In the future, manufacturers will benefit from simplified machine operation. The integration of the user interface into mobile devices will enable machine data to be retrieved and processed from any location worldwide. To this end, the machines are equipped with sensors which provide the data for evaluation. This includes aspects such as the support of the maintenance and cleaning processes, as well as active notification of service and maintenance intervals via the machine.
Using an application example of a networked production line for chocolate, Theegarten-Pactec also presented the possibilities of cross-manufacturer, machine-to-machine communication. The application shown represents the beginning of the new ChoConnect project, within which the Dresden machine builder has joined forces with Winkler+Dünnebier, Sollich and Chocotech, Loesch Verpackungstechnik and Bosch Rexroth.
Managing Director Markus Rustler commented on the company's successful trade fair presence: "The interpack is the most important trade fair for us worldwide. The great interest shown in our efficient and flexible high-performance machines was extraordinary. I am delighted that we negotiated and concluded several contracts. In a nut-shell interpack 2017 has been the most successful interpack ever."
More info: