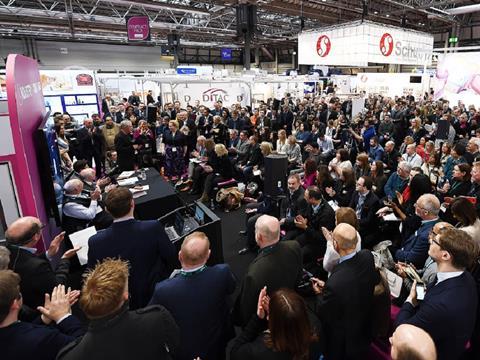 James Drake-Brockman, Divisional Director of Easyfairs' Packaging Portfolio, offers a first look at Packaging Innovations, Empack and Label&Print 2019 and discusses why it is a must-attend for all packaging professionals when it returns to Birmingham's NEC on 27 & 28 February 2019.
Why should Packaging Innovations be marked in all packaging professionals' calendar?
The Packaging Innovations, Empack and Label&Print shows have always served two main purposes. Firstly, we want to provide a place for suppliers and the procurement community to meet, network and do business. Bringing together over 320 suppliers under one roof, our show offers key-decision makers an unrivalled opportunity to discover the latest offerings in the industry, from the major players to the niche specialists. For exhibitors, the show provides a perfect platform to meet with existing clients and make contact with potential new ones, that's why so many of our exhibitors choose to come back year on year.
Our second role is to expose our audience to the most cutting-edge innovations in packaging, from both within and outside the industry. This innovation creates real value for the industry and attracts more visitors every year, which in turn offers ROI to exhibitors. Developments within the packaging industry will not be the only innovation on show either, there are plenty of new developments happening in parallel industries that can be applied to our audience of packaging professionals.
This is an integral aspect of growing the offering at Packaging Innovations. The industry can only progress so much on its own, so its this cross-sector pollination of ideas which will keep the packaging industry's evolution process moving forward. We are putting a lot of time and effort into finding suitable companies to work with and are looking forward to including them in our seminar content, as well as on the show floor in our Showcase areas.
What is new for the 2019 show?
We are always looking for ways to widen our spectrum of packaging solutions and this year is no exception. New for 2019, we will be introducing a partnership with Industrial Pack, a dedicated event for the industrial, transit and protective packaging industry. With protective and transit packaging in the UK forecast to be a $4.7bn market in 2019, it makes sense to deepen our offering for this integral part of the global packaging supply chain within the show. We already attract large numbers of buyers and sellers of industrial packaging solutions. By giving that community a focal point at the event, we hope it will help to raise the profile of this important sector within the packaging industry.
Our CPD accredited conference programme will run across five unique seminar stages, hosting content from industry leaders and innovators. The Main Stage will host focused forums, offering those with specific challenges the opportunity to hear from the best in their industry. Joining the line-up will be the Food Forum, Drinks Forum, Pharma Forum, Beauty Forum, Retail Forum and Ecommerce Forum.
Our Innovation Stage will showcase the hottest new trends and technologies on the market, whilst the Ecopack Stage will address the industry's hottest issue - sustainability, including hosting the latest edition of the Big Plastics Debate.
How are you going to keep content relevant?
After fourteen shows, we are constantly looking at ways we can develop our offering to ensure we remain at the forefront of the industry. We have some extremely high profile and rarely-seen speakers in the pipeline that I can't talk about just yet, but needless to say, we will be expanding on our educational offering which saw the London and Birmingham stages busier than ever at this year's shows.
Sustainability will remain a key focus at the show, as we explore how the issue has evolved over the last 12 months. Through seminar content and features, we will showcase the best sustainable packaging solutions on the market and will be digging deep into the issues surrounding the topic, whilst helping packaging buyers identify how they can deliver eco-friendly packaging.
We will also be expanding our offering for the outsourcing community, as our dedicated Contract Pack area continues to grow. Interest in contract packing is continuing to increase, both at the event and in the industry as a whole. Last year's show was attended by some key leaders in the industry, including representatives from GlaxoSmithKline, Boots and Unilever, so we're excited to broaden the offering and raise the profile of this key sector in the packaging industry.
What news is there on suppliers?
This year we have more exhibitors at the show than ever before and we're excited to be welcoming back big suppliers like RPC, Qualvis, Graphic Packaging, Quadpack, Mondi, National Flexible, Wilkins Group, Mondi, Huhtamaki, and Rapid Action Packaging, to name just a few. There will also be a host of exciting, new and innovative companies joining the Packaging Innovations section of the show.
In Label&Print we will see the likes of HP, Dantex, Epson, Konica Minolta, Videojet, Esko, X'Rit, and AM Labels, amongst others. Empack will see companies like Automated Packaging Systems, Adpak, Atwell, Yorkshire Packaging, Herma, K Tec, and Enercon, showcase their products.