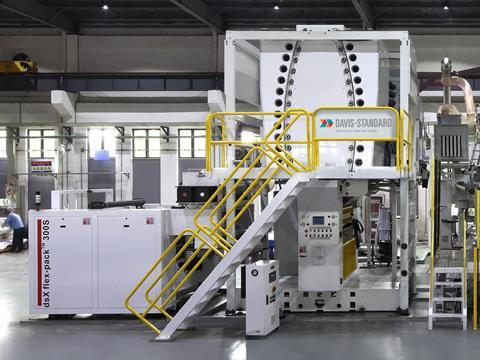 In our latest Rapid Interview, extrusion and converting experts Davis-Standard tell us about how they prepare for change in a fast-moving commercial environment.
Your elevator pitch: introduce and sell us your company in no more than 280 characters.
Innovation, performance, and 24/7 service define Davis-Standard's solutions for the global packaging industry. With equipment for countless applications, our expertise before, during, and after-sale is unmatched. Whether it's R&D, engineering or aftermarket, we've got you covered!
Where are your company's locations? Are there any specific challenges or advantages relating to your geographical location that you could tell us about?
We are a global company with regional locations to best serve our customers. Davis-Standard's facilities, comprising over a dozen legacy brands, that support packaging markets include Pawcatuck, Conn., Fulton, N.Y., Somerset and Ringwood, N.J., Gloucester, Mass. (United States); Brampton and Mississauga, Ontario (Canada); Erkrath (Germany); West Midlands (Great Britain); Suzhou City, Jiangsu Province (China), Vantaa,(Finland) and Ecublens (Switzerland).
Tell us a surprising fact about the market you work in.
Our machines are built to last. With our expert engineers and assembly teams, we have some of the most talented people in the industry working together. Many of our machines have lasted for over 25 years and are still running strong. One of our customers has what they call the "workhorse" machine, running efficiently for 60 years!
At Packaging Europe, we like to watch trends and areas of innovation as they evolve. Can you tell us something we might not be aware of that is driving technology in your sphere?
Everyone is aware of sustainability initiatives to aid in the circular economy; equally important is the ability to design the technology and flexibility for custom formulations/structures for future needs into extrusion and converting equipment.
Recent product innovations in real-time monitoring are driving improvement in uptime by focusing on predicting potential failures and enabling preventive maintenance to address the issue before it causes unplanned downtime.
What would you say is the biggest common misconception that you encounter in your business?
"It's only packaging"….. everyday consumers may not recognize the level of innovation and technology that is utilized in everyday packaging, as without it, our on-the-go lifestyle may not be the same.
If the wider packaging industry could be transformed in some way, what kind of change would you like to see?
Closer collaboration with all stakeholders in the value chain.
…and how do you envisage your company changing the industry in the coming years?
Collaborating with our customers to create a tailored solution of equipment and support that is unique to their business needs in a global and dynamic market place. Our ActivCheck system using smart logic reduces downtime and provides insight into the process parameters on the line.