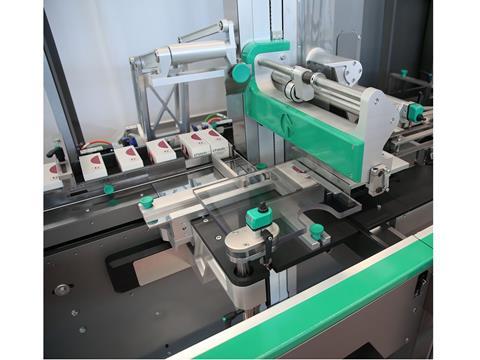 The Marchesini Group will once again be at Ipack Ima, the food and non food processing and packaging tradeshow, which will take place in Milan from May 29th to June 1st.
Marchesini's booth (Hall 4, Booth B14) will be showcasing two stand-alone machines for cosmetics, which is a very important business area for the Group. In fact, there will shortly be a new Beauty Division just down the road from the Headquarters in Pianoro dedicated to this industry.
The first solution that visitors may admire is the automatic overwrapper Farplus C, perfect for cosmetics thanks to the wide variety and high quality of the possible closure methods: from standard for individual products, to grouped products for all shapes and sizes of perfumes, including dot seal and tear tape.
Farplus C has a robotic product infeed and a product by-pass off the machine to ensure non-stop production. It can process 80 packages a minute. It is available in the standard version with side holding belts and in an optimised version for packaging cosmetics, with special plates for dot seal closure.
DUMEK will be represented by a 200-litre TURBO-MEK turbo-emulsifier.
The TURBO-MEK vacuum turbo-emulsifiers are designed for liquid and creamy products, such as emulsions (cream and milk), serum, oil and balm, gel and lotion; special versions of these machines can process other specific products such as make-up (mascara, foundation), hair dye, toothpaste and mud.
All the operating functions and parameter adjustments of the turbo-emulsifiers can be managed and set from the control panel equipped with software developed in-house exploiting DUMEK technology.
More info: