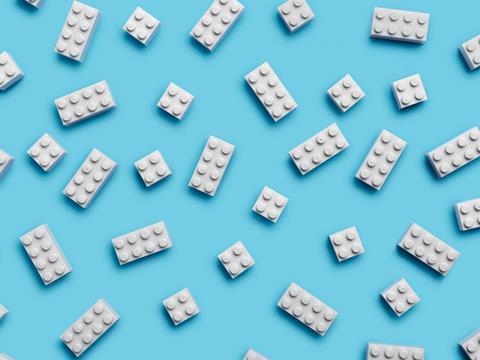 In 2020, Danish toy giant LEGO announced its best sales figures for the past five years, largely due to an uptick in consumer interest during national lockdowns. The company has also been busy in the packaging sphere – revealing changes to secondary packaging, as well as its very first brick made from recycled PET.
To learn more about these projects, as well as LEGO's general approach to packaging sustainability, we spoke with Tim Brooks, the company's VP of environmental responsibility.
---
Recently, LEGO revealed its first-ever bricks made from recycled PET. Could you give us some background on this project, and tell us more about the "patent-pending material formulation" that makes it possible?
The new prototype, which uses PET plastic from discarded drinks bottles, is the first brick made from recycled material to meet our company's extremely strict quality and safety requirements.
This formulation of recycled PET is the most promising of over 250 different recycled PET variations that our team of 150 people has researched and tested as part of our journey to find more sustainable materials for our products.
We have also tested over 100 formulations of other sustainable materials over the past six years and found rPET to be the most suitable so far.
To get to this point, we developed a patent-pending material process to strengthen the rPET material to make it durable enough for LEGO products. We estimate that one standard 1 litre PET bottle (approx. one liquid US quart) provides enough recycled PET to make 10 2 x 4 LEGO bricks.
Our long-term ambition is to make our products from more sustainable materials, so we are excited to have a prototype that may provide an alternative material without compromising on safety or quality.
On a broader scale, LEGO aims to make all its packs recyclable or renewable by 2025. How do you plan to make this a reality – is there a roadmap?
Our ambition to make all of our packaging from sustainable materials by 2025 is another focus for our sustainable materials team.
In 2019 we started to phase out single-use plastic retail bags from our stores, and this year, started to trial paper pre-pack bags in our LEGO boxes rather than single-use plastic bags. The paper bags will be adjusted and refined during this pilot before being rolled out across the portfolio by 2025.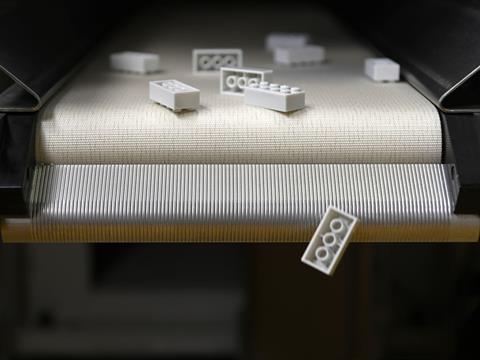 Like you said, in terms of secondary packaging, LEGO plans to swap its plastic inner bags for paper-based ones. In the company's view, what are the benefits of paper vs plastic in this context?
Our priority when it comes to packaging is to make it more sustainable which means from recycled or renewable sources and removing single-use plastic.
The paper we are trialling can be widely recycled by builders once they have enjoyed the building experience.
The switch from single-use plastic to paper will have a minimal impact on our total CO2 emissions, which we are already successfully working to reduce across our operations and supply chain.
LEGO recognizes that this particular effort will not be simple to deliver. Could you break down some of the challenges you expect to encounter, and how you plan to overcome them?
Phasing in the new bags is a complicated process – we need to introduce new machines to make the new packs and we make millions of boxes a day across five factories around the world.
We can't switch everything at once, which is why we have a phased way, to ensure we can continue to get LEGO play to children around the world.
We will have completed the transition in order to meet our ambition of using 100% sustainable packaging by 2025.
Bio-based plastics are gaining traction in the packaging industry, and I've seen that this is also an area in which LEGO is invested. What has LEGO learned thus far from its forays into this field?
When we first launched bio-elements in 2018, we used bio-polyethylene in about a dozen of our botanical elements. Over the past few years, we've expanded our use, and currently have just over 100 different elements made from bio-polyethylene.
However, bio- polyethylene is a soft plastic so is not currently suitable for making harder, stronger elements such as the iconic LEGO bricks which are currently made from an ABS plastic. This is why we are continuing to explore other sustainable materials for use in our bricks.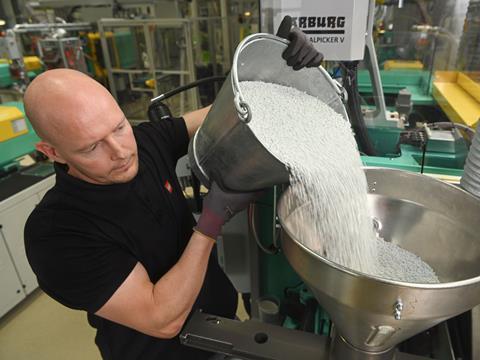 For us, the challenge with finding more sustainable alternatives to the 20 or so materials we use for our products, is to develop materials that can be moulded to the accuracy of a hair width to ensure bricks produced today fit with those made over 60 years ago, while being durable and safe enough to be handled by children day-in, day-out. That's why we are so excited about the breakthrough we have made with the recycled PET material.
LEGO hopes to be carbon neutral by 2022 – how is it going about making this happen?
By 2022 we want to be carbon neutral across our manufacturing operations. This will involve investing in efficiency measures to lower energy use and carbon emissions and investing in renewable energy across our sites.
Through our parent company KIRKBI, we have invested in two offshore wind farms in Germany and the UK. We already have solar panels on our new LEGO CAMPUS in Billund and are installing them across our factory network.
We are also committing to reducing our absolute carbon emissions by 37% by 2032 against a 2019 baseline. This target has been approved by the Science Based Target initiative as consistent with levels required to keep global warming to below 1.5°C, the most ambitious goal of the Paris Agreement.
Implementing all of these projects across the entire business will clearly be quite the undertaking. What factors motivate these moves?
We want to play our part in building a sustainable future and making a positive impact on the planet our children will inherit. As a company that looks to children as our role models, we are inspired by the millions of kids who have called for more urgent action on climate change and protecting the environment.
Over the last ten years, we have made a series of moves to build a better planet for future generations, but we believe it's increasingly urgent and important to prioritise environmental and social activity. That's why last year, we announced a $400m US investment to accelerate our sustainability and social responsibility initiatives, which includes research into more sustainable materials for our products and packaging.