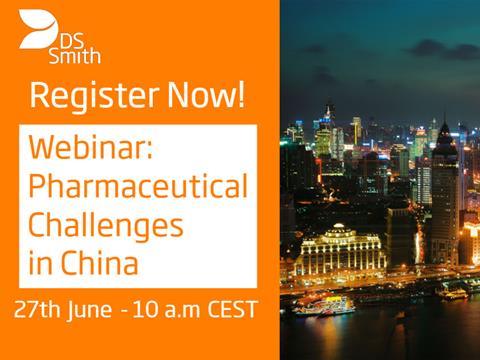 Global pharmaceutical players are increasingly recognising the opportunities presented by the Chinese market. With this in mind, our readers are invited to a webinar, 'Pharmaceutical Challenges in China', hosted by Packaging Europe and DS Smith on 27th June 2019 at 10.00am CEST.
In the run-up to the webinar, Victoria Hattersley spoke to Emmanuel Pascart, Head of the Pharmaceutical and Medical Devices business at DS Smith, and Andreas Guip, Managing Director of DS Smith China, to find out a little more about the unique challenges associated with this market, and why companies must adopt their strategies accordingly.
VH: Why is it so important for your customers to break into the Chinese pharmaceutical market?
EP: China is the world's 2nd largest pharmaceutical market behind the United States. The Chinese market is growing by 10 per cent per year. Continuous economic growth and improved healthcare in China but also specific issues such as pollution have encouraged the rise in consumption of pharmaceuticals and especially foreign products.
AG: Indeed, despite some setbacks, China's economy is still one of the fastest growing ones. This for sure originates in the size of the population as well as the efforts of the Chinese government to promote domestic production for domestic use.
VH: What do you consider the key trends in pharma globally, and how do they play out in China?
EP: The pharmaceutical market is at a turning point in a changing environment in the world. With the economic development, more people have access to pharmaceuticals and the state is also making access to healthcare easier to larger segments of the population. Each stakeholder wants to be present in growing markets and we can observe acquisitions among manufacturers of over-the-counter, generic drugs (cheaper) and biotech companies. This context results in reorganisations with a global willingness to optimise and streamline the supply chain.
AG: In China specifically the changes in demography are impressive and we clearly have to deal with specific issues such as environmental pollution and resulting chronic diseases as well as specificities of the region. Furthermore, the global trend to make healthcare easier to access is clearly one that plays a big role in China. The Chinese government is supporting the development of low-cost generic drugs as well as subventions for expensive drugs such as cancer treatments. This, together with the continuous improvements of the health system and addition of hospitals, makes China a very important market.
VH: What are the key challenges / pitfalls when moving into China?
EP: When we talk about pharma we obviously talk about quality, compliance, anti-counterfeiting issues and strict validation processes slowing down the progress of change. The development of the self-care market, the opening of emerging markets like China, new regulations for anti-counterfeit and so on are calling into question existing quality approaches. The key players have to manage this complexity through improved supply chain optimisation, working with reliable partners.
AG: Indeed. And once again the mere size of the country plays a crucial role in answering this question. There are also big differences between the regions in terms of development, infrastructure which need to be taken into consideration in terms of logistics. Climate can vary between -25°C and 40°C between regions. Other challenges include the position of traditional Chinese medicine, language barriers and different government regulations compared to western markets. Quality requirements, the increasing development of e-commerce and the need to tackle the spread of counterfeit products through online sales all put pressure on pharma and medical device players to closely monitor their manufacturing processes.
VH: What opportunities can these challenges present for your customers if they approach them in the right way?
EP: They can accelerate the process of change with more agility due to the business model we have launched. Huge experience & trust as we already know our customers well in Europe, by mastering their requirements, compliance & standards, by delivering high level of services such as "just-in time", audits and certifications. Packaging is an important part of the supply chain following the product from the beginning to the end. There is obviously great focus on quality and traceability.
AG: Indeed, and I would also like to add that being prepared and working together with experts on the local markets will bring benefits and market knowledge. Our experience that have been developed over years can now enable us to help customers to avoid pitfalls and risks, leading to the opportunity to directly start with the core business.
VH: And finally, why is now the time to have this discussion?
EP: Because of the fast pace at which the market is changing, without any sign of slowing down. All our existing customers in Europe are working now on a business plan to address this specific market.
AG: In my opinion the Chinese healthcare market is expending exponentially due to multiple factors as mentioned before. it is therefore the right time to address the Chinese market.