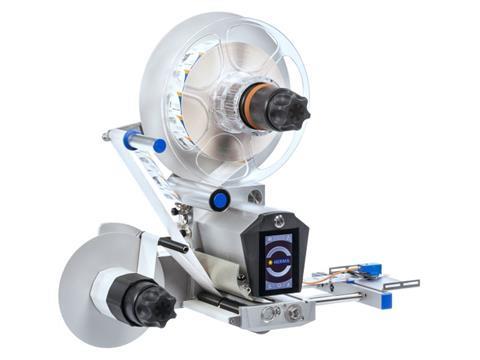 Embracing web compatibility and Ethernet control for interconnectivity, the new HERMA 500 is a highly integrated, high-performance applicator.
It marks a step forward as the packaging and labelling sector moves towards adopting smart factory principles. Its intelligent features satisfy the criteria imposed by Industry 4.0. Under the motto "Leading performance – smartly connected", the self-adhesive technology expert HERMA will introduce the newly developed applicator generation at this year's Fachpack exhibition in Nuremberg, Germany, in hall 3A, booth 236.
Remote control
The successor to the HERMA 400 labeller offers compelling connectivity, intuitive operation, highly flexible integration options, and outstanding performance parameters. HERMA has delivered an innovation with the new machine's online functionality, as Martin Kühl, head of HERMA's Labelling Machines Division, explains, "In future users will be able to parametrise, maintain, and operate the applicator as necessary by way of the Internet – quickly and simply. And the labeller itself responds to remote control as well, all of which further helps to reduce setup and maintenance times, and therefore costs." It can also be connected to an upstream controller by way of OPC UA and Industrial Ethernet interfaces without any additional components. "For users and operators alike, this capability fosters the more efficient control of production processes, which is especially relevant in the case of complex packaging lines," he continues. Thanks to compliance with UL and CSA requirements, the new labeller can be used immediately and without any modifications in both the USA and Canada.
No more than three clicks
The 4.3-inch colour touchscreen rotates in three 90° increments to ensure optimum visibility in any situation. It responds reliably to finger pressure, irrespective of whether or not the operator is wearing gloves. The menu is configured so that the user can always navigate to the desired menu item with three clicks at most. In addition, the HERMA 500 is preconfigured to show messages and other plain text in more than 30 languages. Its easy-to-read touchscreen is also ideal for viewing user manuals, threading schemes, and help topics. "The necessary information is presented to the operator at the machine, which is a very efficient way of enabling users to help themselves," remarks Martin Kühl.
Flexibility within a very small footprint
Like its predecessor, the new HERMA 500 does completely without a switch cabinet. The control unit is directly integrated in the device itself. This solution gives rise to a compact applicator that is easy to incorporate, even if very little space is available. Repositioning the labeller within a line, or moving it to a different one, can be accomplished in just a few simple steps. As regards geometry and physical interfaces, moreover, the HERMA 500 is largely backwards compatible with its predecessor. Replacing an old applicator could hardly be easier – simply take it out and install the new model. And it's a job worth doing, simply in view of the substantially enhanced performance. Even with mechanical unwind and rewind units, the HERMA 500 can provide a feed rate of 50 metres a minute – the previous limit was 40 metres. "From the overall perspective of connectivity, flexibility, and ease of use, the performance scope of the HERMA 500 is unprecedented worldwide," insists Martin Kühl.