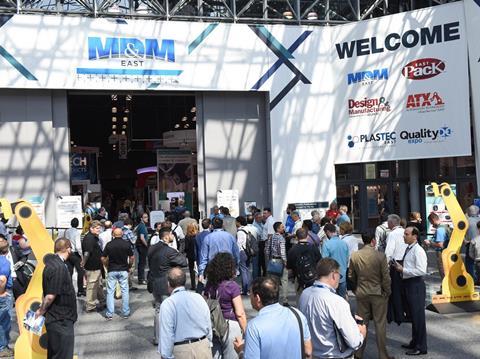 EastPack, part of the US East Coast's largest advanced design and manufacturing event taking place on 12-14 June in New York City, is the annual must-attend trade show for discovering the latest packaging innovations and trends.
Offering cutting-edge solutions for an array of industry verticals, EastPack showcases the latest solutions and technologies today's packaging professionals need to make products stand out in a crowded marketplace. Nina Brown, VP of events at UBM introduces the event to Packaging Europe's Libby White.
Could you please give me a brief history and overview of the EastPack trade show?
EastPack is one of our staple, co-located shows at Advanced Manufacturing New York. Specifically, it is a must-attend tradeshow for discovering packaging innovations because the show covers packaging needs across an array of markets, including food and beverage, health and beauty, medical devices, the growing cannabis market and other consumer goods.
Exhibitors at EastPack are some of the most supportive supplier partners in the industry and will showcase the latest equipment, materials, containers, and services.
What should visitors expect at this year's event, and why should they attend?
New this year is the Packaging Education Hub, a central place on the show floor with a full agenda of packaging-related educational sessions, fun demonstrations and hands-on activities during the three-day event. The topics are totally on-point with today's current challenges for packaging professionals. We'll be bringing in experts on smart packaging, sustainability, ecommerce and packaging automation to share their knowledge, insights and advice. They'll be plenty of interaction with the audience, so visitors can come with their questions and leave with answers.
Overall, packaging professionals should attend EastPack because it offers a unique opportunity to meet with representatives from industry leading companies, network with peers and make business connections, learn from packaging-focused presentations and discussions led by industry experts, and it's all free! EastPack truly is the East Coast's leading packaging showcase and offers unmatched potential for industry professionals to grow their business and careers.
What are the highlights of the conference programme?
As mentioned above, for the first time, we will feature conference-level packaging content on the expo floor in the form of panel discussions, technical sessions, hands-on activities and more at the Packaging Education Hub.
The Packaging Education Hub is a theatre designed specifically for packaging professionals. Throughout the three-day event, the Packaging Education Hub will host packaging experts speaking on specific topics, such as new bioplastic technologies, package testing methods and food safety considerations for packaging equipment.
Along with the Packaging Education Hub, we will also feature a Smart Manufacturing Education Hub and a Medtech Education Hub for professionals in those respective industries. For more information on our education hubs, please visit: https://advancedmanufacturingnewyork.com/schedule.
Another highlight is a panel discussion and networking opportunity with the next generation of packaging leaders on Thursday afternoon, June 14. Young packaging managers and engineers at McCormick & Co., Seventh Generation, OnPoint 2020 and The Packaging School will discuss 'Packaging Trends that Really Matter and Why' before sharing some career difficulties and helpful tips they've learned along the way in 'Rising to the Challenge of a Packaging Career'. This is a can't-miss opportunity for attendees looking for real-world career advice – or hoping to recruit top talent because we're also inviting packaging students from nearby universities to come network.
How does EastPack tie in with the wider Advanced Manufacturing event, featuring six trade shows in total? How does this benefit visitors focused on the packaging industry?
The purpose of Advanced Manufacturing New York being comprised of six co-located shows is to illustrate the entire 'design to manufacturing process' in one comprehensive event. The six events cover automation, design engineering, medtech, quality, packaging and plastics, which have a lot of overlap in regard to interaction between companies and professionals in each respective industry. EastPack itself touches the health and beauty, medical device, consumer goods and food and beverage industries.
We also believe that having a comprehensive event offers our attendees and exhibitors much more opportunity to network and create new business connections.
Can you share an American view of the latest packaging trends? What solutions and innovations can we expect to see at EastPack?
In the USA we're tracking a host of hot topics in packaging, and visitors can learn the latest about them at EastPack from subject-matter experts in the booths and presenting on stage at the Packaging Education Hub.
Here are just four examples:
1. Smart packaging and digitalisation: At EastPack, we'll tackle this topic from the point of view of packaging development, as well as packaging production.
On Tues., June 12, from 3:00 to 3:45 p.m., Ryan McManus, SVP Partnerships and Corporate Development, at EVRYTHNG, has an easy answer to the compelling question "What Can Brands Do With an Internet-Enabled UPC?" EVRYYTHNG has worked with GS1 to develop technology to make the Universal Product Code—the UPC barcode you see on all retail packages—connect consumers to a brand's digital assets on the internet.
And then on Wed., June 13, from 11:00 to 11:45 a.m., Danielle Sauvé, director of Customer Experience and Insights, Danaher, Product Identification Platform, will let attendees play with colour virtualisation, augmented reality, analytical tools and computer vision in a hands-on session designed to show how to speed up the packaging development process and create a new frame of reference for 'what's possible'. The session is titled 'Emerging Technologies in Packaging + Design'.
2. Automation in packaging production: One session at the Packaging Education Hub is 'Assembling a Franken-Line without the Monster Headaches'. Veteran packaging engineer John R. Henry of Changeover.com will share pitfalls to avoid and tips to remember when faced with a challenging packaging line assembly project—like having to string together machines from a company's graveyard of unused equipment.
3. E-commerce: We're pleased to welcome Uwe Voss, Chief Operating Officer at HelloFresh, to tell us 'How HelloFresh Delivers a Tasty Ecommerce Experience'. In the United States, the popularity and growth of meal kits present some unique packaging challenges. On Wed., June 13, from 10:30 to 11:00 a.m., Voss will explain how packaging is helping ecommerce companies leverage today's opportunities in the perishable supply chain to deliver a high-quality consumer experience. He'll address critical issues, such as product freshness and safety, portion control and health-and-wellness, and sustainability.
4. Sustainability: Tradeshow visitors always like to go home with freebie samples to impress the kids or grandkids. We've got a fun session planned that lets attendees create their own 'treasure' from collected trash, while learning about alternative end-of-life scenarios for hard-to-recycle packaging from an industrial designer at TerraCycle. 'Upcycle That Package—Live!' will take place on Wed., June 13, from 2:00 to 2:45 p.m.
And these are just some of the highlights happening at EastPack 2018. We invite all packaging professionals to attend, whether their responsibility is for packaging development, design or engineering.