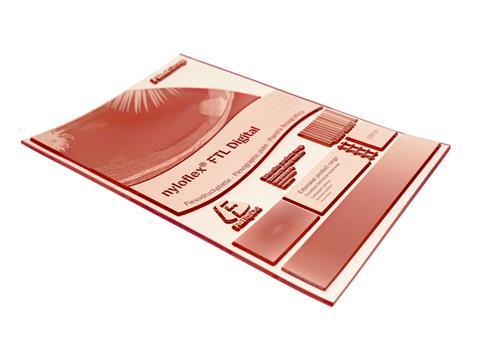 The test panels printed at Smurfit Kappa were all produced at Chespa Leipzig, where the data preparation was also handled. First, test forms were printed to evaluate the limits of the printing plate. Production jobs were then implemented in order to test not only the good printing performance of the first tests but also the quality over the entire print run with several jobs and designs. "The most important challenges in meeting our customers' needs are the repeatability and quality of the print result," explains Lutz Klemm, managing director at Chespa.
nyloflex® FTL Digital is an inherent flat top dot printing plate for corrugated postprint as well as for paper and board applications in combination with water-based inks. Amongst others, it is suitable for printing on sustainable substrates with a higher proportion of recycled fibers.
The result is a significant reduction in fluting
The nyloflex® FTL has inspired and convinced Smurfit Kappa from the first print onwards. Thanks to better ink transfer and improved ink laydown, Smurfit Kappa was able to improve the print quality, especially in the solid coverage. The ability to reduce the impression setting minimises the fluting effect and thus achieves excellent printing results on uncoated testliner or kraftliner in combination with B-flute.
Less deformation of the corrugated board makes it easier for the printer to meet the specified crush tolerances of the end customer in order to guarantee optimum packaging stability.
Alternatively, it is possible to use printing substrates with lower grammages to save packaging material. "With Flint Group we have a qualified and innovative partner for printing plates on our side. Both the Flint Group and the Chespa Group thrive on close exchange, cooperation and the great trust of their customers. Our central task is to develop ourselves further, to push ahead with innovations and the latest production technologies and to offer customized products and services tailored to the customer's specific requirements," says Mr. Klemm.
This content was sponsored by Flint Group.