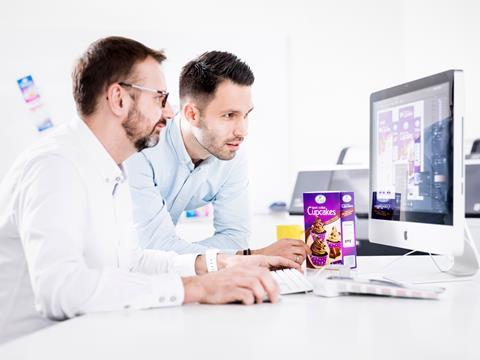 Amid the various functional and design considerations in print and labelling, brands have to ensure they achieve accuracy and consistency in colour. Anne Komander, technical specialist at GMG GmbH, talks here about nuances of colour management.
The main value of effective colour management lies in a consistent colour appearance, no matter which substrate or printing process is used. The prediction of colours before going on press helps brand owners and customers in the decision-making process regarding design and appearance. Moreover, an effective colour management and a consistent colour communication decreases the amount of approving cycles between customer and prepress, which leads finally to reduced set up times at press and saves money.
The variety of substrates, printing process and conditions involves a wide field of possibilities to make mistakes in colour management. Choosing the wrong printing standard to convert the files can lead to a wrong result in colour at press or exclude the influence of the paper tint or OBAs may result in a colour appearance the customer didn't expect. The main risk in getting colour management wrong is delivering the wrong colour expectations to the customer and handling complaints afterwards.
Challenges
The main challenge in getting it right isn't technical, so much as organisational. Normally you would have to do a full fingerprint of every press and printing process you use, on every substrate involved with all colours and ink sequences you would like to print and all of this at every site you are producing around the world. That's indeed very complex and takes a lot of time. To simplify this process, the specific technical challenge is to have a solution that can predict the behaviour of each scenario with a very small amount of information.
A powerful colour management system, like GMG OpenColour, is able to accurately predict the outcome of each printing process and substrate combination, even without a fingerprint or a test chart. By knowing the paper tint of the substrate, the printing process and the ink sequence, it is possible to calculate reliable proof and even separation profiles with the spectral measurement of single colour patches, no matter if it's CMYK or spot colours, and store all of this information in one place. If you want to switch from an analogue technology like flexographic printing to digital printing, the challenge is to consider all specific differences between the process and adapt your files correctly. Having a smart system, which stores all information about each printing process in one central database, makes it easy to transfer and calculate the colour outcome from one process to another.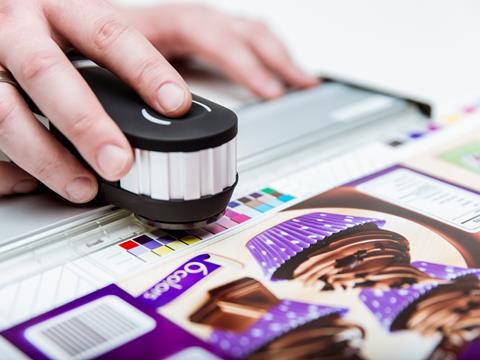 Driving innovation
Trends such as faster changing designs, seasonal adaptations and personalisation support the rise of digital print. Beneath all the benefits of digital printing, there are a few challenges as well. Since you cannot change the colour behaviour of a digital press while printing, your data needs to be 100 per cent correct from the beginning and if a global brand owner counts on hybrid print production, i.e. combining analogue and digital, you have to ensure the same colour appearance whether a design is printed in one or another. Moreover, we see market demand to print more jobs with more variations in less time. To manage these expectations you need a reliable colour management system that allows dynamic and individual profiling, especially in packaging printing.
Another driver we see is extended colour gamut printing. To enlarge the colour gamut of the press by adding two to three spot colours to the standard ink set, like CMYK + OG or CMYK + OGB, gives printing houses the opportunity to print more jobs in the same time. The standardisation of a process like this increases the ink savings, reduces wash-ups and leads to a faster make ready time, but using more than four colours needs a good colour management solution for multicolour separation. Registrations problems, instability on the press through too many colours or unintended colour shifts are reasons why there is a need for good separations to achieve the best visual results.
The biggest driver across the industry is of course sustainability – and a good colour management system can support printing companies and converters with that as well. The key theme here is 'first time right'. A reliable and consistent colour management solution takes into account the behaviour of the printing presses and substrates, predicts the colour correctly and delivers colour accurate proofs plus individually converted printing files. Printers will reduce their set-up time and waste, get faster into colour and customers will receive a result matching to their expectations – without any complaints afterwards, and reduced waste.
Cutting edge
There are a few areas of technology that are a focus of continuing innovation. For us on of these is profiling for proof and conversion. Using the same data to convert the files and prepare the proofs based on the same data saves time and money. Convert your files, proof them for a check, maybe adjust them and go to print without bad surprises.
Another area at the cutting edge is automatic conversion and the direct connection between the single colour management tools. Full flexibility is what the market is expecting and colour management solutions should deliver this. But perhaps the most significant advance we're seeing is the move toward using extended colour gamut printing already in daily production. Multicolour solutions and a reliable colour management system, especially for global productions, represent the state of the art for this technology.