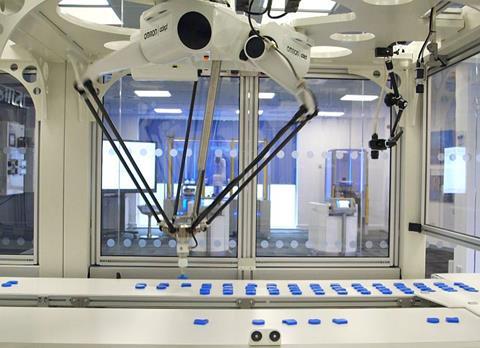 As well as featuring the latest robotics technology, the lab highlights how the robots can integrate with Omron's other products for sensing, control and motion, as well as the company's Cloud connected and AI-controlled management systems, to provide a complete manufacturing control solution. The proof-of-concept will also go beyond the manufacturing process to show how Omron products can enhance the efficiency of other production areas, such as packaging and the distribution of materials.
Catering for 21st century needs
Peoples' expectations have changed, and speed in the area of online deliveries is of key importance. "The 'near factory' concept helps to speed up the process as it is not necessary to have one big factory, but several smaller ones which produce items locally. For these to work, you need a connected systems. There is a trend for manufacturers to localise manufacturing to allow more flexible distribution solutions, especially for products that have a short shelf life, and Omron's solutions can help achieve that," Mr. Rossek points out.
Growth potential
Mr. Rossek sees the area of food handling as an important area for growth in robotics and highlights the importance of attracting more people to the engineering profession.
"The adoption of robotics and automation in the UK market is comparatively low, but we expect a boost in the area of robotics and innovation areas such as primary food handling, which at the moment generally still is an intensive, manual process. We are looking at applications in that area and how we can develop solutions. Manufacturers face challenges due to reduced labour migration, so jobs for example in factories and agriculture are harder to fill. This means that people are more open to adopting new technologies, which then however involves the challenge to find the skilled workers to program and operate these systems. But work is being done to train the next generation of engineers, and we have seen a marked improvement."
He highlights the importance of innovating in a smart, efficient way rather than deploying technology for the sake of it.
"The robot isn't always the best solution for every application. It's about continual evolution of technology, which brings benefits and efficiency to manufacturing. I think as time goes on and people start adopting the technology more and more, they also start to see the benefits of it."