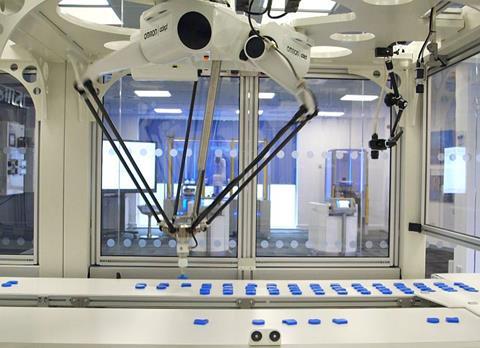 Omron has opened a new Robotic Innovation Lab at the company's UK headquarters in Milton Keynes. The lab, which represents an investment of £600,000 with a creation of five new jobs, is set to demonstrate how robots can be a boon to the UK manufacturing industry, as well as providing customers with a realistic overview of how robots can enhance their own individual applications.
Proof-of-concept
Manufacturers across the UK are interested in the potential of robots to increase productivity and as a solution to the current industry-wide labour shortage. But, at the same time, they are reluctant to make a substantial initial capital investment without assurance that it will provide a definite ROI for their own unique application. The Omron robotics innovation lab provides those customers with a 'proof-of-concept' demonstration that will replicate their application in every conceivable detail prior to making any financial commitment.
Dan Rossek, Marketing Manager at Omron UK, tells Packaging Europe: "Many of the manufacturers that we meet see robots as the ideal solution to the problems they are currently facing, such as difficulties in recruiting qualified, experienced personnel. The new Robotic Innovation Lab provides a platform that can be quickly configured to give an accurate representation of the impact that robots will actually have on the customer's own production line, as well as allowing us to demonstrate how our other products can be quickly integrated to increase the benefits provided by the robots. The lab also gives us a better understanding of our customers' needs and provides a powerful tool that helps convert interested leads into satisfied customers."
Through the lab, Omron now has a platform to showcase its complete portfolio of industrial robots, including SCARA, 6-Axis and high-speed Delta robots for handling goods in the production line. As well as fixed robots, Omron's Autonomous Intelligent Vehicles are also incorporated in the innovation lab. AIV's are capable of independently transferring raw materials and products between different production cells and loading and unloading machines, allowing manufacturers to deploy personnel onto more productive tasks.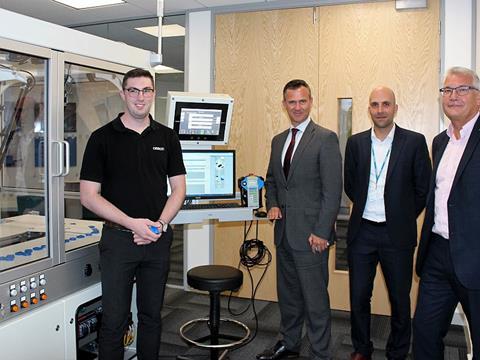 As well as featuring the latest robotics technology, the lab highlights how the robots can integrate with Omron's other products for sensing, control and motion, as well as the company's Cloud connected and AI-controlled management systems, to provide a complete manufacturing control solution. The proof-of-concept will also go beyond the manufacturing process to show how Omron products can enhance the efficiency of other production areas, such as packaging and the distribution of materials.
Catering for 21st century needs
Peoples' expectations have changed, and speed in the area of online deliveries is of key importance. "The 'near factory' concept helps to speed up the process as it is not necessary to have one big factory, but several smaller ones which produce items locally. For these to work, you need a connected systems. There is a trend for manufacturers to localise manufacturing to allow more flexible distribution solutions, especially for products that have a short shelf life, and Omron's solutions can help achieve that," Mr. Rossek points out.
Growth potential
Mr. Rossek sees the area of food handling as an important area for growth in robotics and highlights the importance of attracting more people to the engineering profession.
"The adoption of robotics and automation in the UK market is comparatively low, but we expect a boost in the area of robotics and innovation areas such as primary food handling, which at the moment generally still is an intensive, manual process. We are looking at applications in that area and how we can develop solutions. Manufacturers face challenges due to reduced labour migration, so jobs for example in factories and agriculture are harder to fill. This means that people are more open to adopting new technologies, which then however involves the challenge to find the skilled workers to program and operate these systems. But work is being done to train the next generation of engineers, and we have seen a marked improvement."
He highlights the importance of innovating in a smart, efficient way rather than deploying technology for the sake of it.
"The robot isn't always the best solution for every application. It's about continual evolution of technology, which brings benefits and efficiency to manufacturing. I think as time goes on and people start adopting the technology more and more, they also start to see the benefits of it."