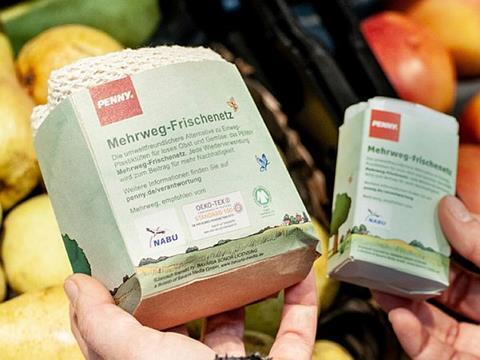 Within the framework of its sustainability strategy "Avoid, Reduce, Improve", German discount supermarket chain PENNY has launched an interesting initiative.
In all 2.200 supermarket chains, reusable net bags will be sold to pack loose fruit and vegetables. This makes PENNY the first discounter in Germany to permanently include reusable net bags in its range. In the PENNY regions North and East, net bags made from polyester will be sold. In the regions West, South West and South customers will be able to buy reusable bags from organic cottons. Two polyester bags will cost EUR 0.49, two cotton bags will cost EUR 0.99. Whichever bag option proves more popular will then be permanently adopted in all PENNY supermarkets.
"In the interest of sustainability, we are now offering our customers an alternative to the classic knot bag for packing fruit and vegetables. The high-quality nets can easily be used several times and also have an attractive price. Further incentives to buy the nets are provided at the start by additional payback points or discounts on the next purchase of loose fruit and vegetables. The net bags will initially be introduced for 20 weeks. During this period, we will determine which of the two reusable solutions customers prefer. PENNY will then introduce the more popular of the two variants in all stores on a permanent basis," says Stefan Magel, COO PENNY and REWE Group Divisional Director of Trading Germany.
According to market research organisation Gesellschaft für Verpackungsmarktforschung, over three billion plastic knot bags are issued annually. PENNY has already implemented various measures to reduce the amount of plastics in order to counteract the increase in plastic production. Last year, the PENNY knot bags in the fruit and vegetable sector were reduced in size by 20 per cent with the aim to achieve a plastic reduction of around 5.7 million square metres per year, which corresponds to an area of around 800 football pitches. By the end of 2016, Another measure was the introduction of packaging trays made of grass fibre and recycled materials.