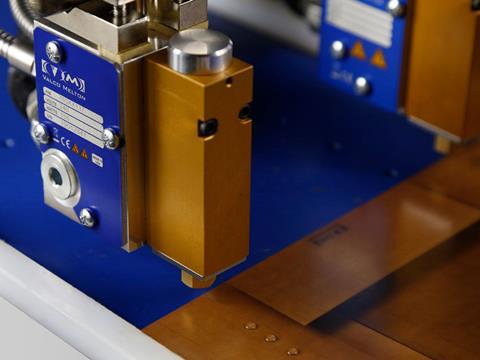 Dispensing equipment, quality inspection systems, and coating machinery expert Valco Melton talks to Packaging Europe about its all-electric hot melt dispensing solution.
Improve your industrial hot melt glue dispensing machinery, eliminate consumables, and reduce the cost of your end-user's consumer packaged goods with Valco Melton's EcoStitch All-Electric Hot Melt Application Technology.
Specifically designed to operate in industrial hot melt applications, with a special focus on the food & beverage industries, EcoStitch technology offers an intelligent solution for electric hot melt application, with fast cycle rates, long service life, and hard evidence to support adhesive savings of up to 70% by working on dot mode. Additionally, the use of less moving parts results in a reduction of up to 95% in maintenance downtime.
The EcoSitch industrial hot melt solution has technology that ensures your cartons are glued more efficiently, more effectively, and with much greater consistency—allowing your manufacturing of products to run without downtime or needless parts changes due to wear items.
As the packaging industry feels pressure to reduce its overall carbon footprint, all-electric systems are an attractive solution. In recognition of Valco Melton's commitment to ecological values, EcoStitch technology was one of the four finalists in the Sustainability Awards 2019 due to its proven environmental benefits reducing adhesive usage.
Towards more efficient and sustainable palletizing
Valco Melton's palletizing solution is designed to minimize product damage while avoiding unnecessary costs related to the use of stretch film wrap.
Whether you are working with corrugated boxes, bags, sacks PET Bottles packages, Valco Melton's systems apply the precise amount of adhesive required, regardless of the line working speed, making sure that your products are safely stacked for transportation and delivery to your customers.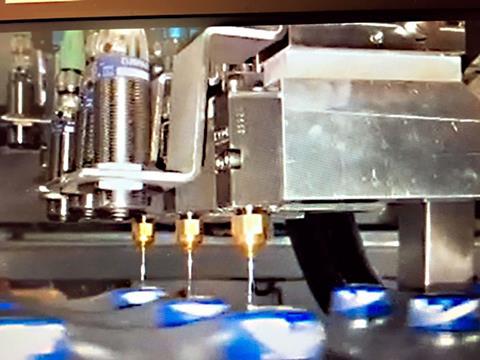 Our complete solution includes adhesive melters in different tank sizes to adapt to each process requirement and adhesive type, dot, bead or spray hot melt applicators, and a pattern control which may be external or integrated into one of our adhesive melters. All of it with a compact design and easy installation into any new or existing line. The system remains independent to the line, so it can be moved to another location at any time, without the need to stop the production line – neither for the first installation nor for subsequent location changes.
In palletizing processes for corrugated boxes, bags or sacks, the use of anti-slip hot melt adhesive is an efficient and cost-effective alternative that replaces, completely or partially, the use of stretch wrap. This reduces operational and packaging costs, and takes a step towards a more sustainable supply chain, with the reduction or elimination of polluting waste (stretch wrap or thermo-shrink film).
What's more, for certain end products, hot melt palletizing eliminates the need to use carton corners, which reduces further the use and stock of consumables, bringing additional savings.
Valco Melton's hot melt palletizing systems are also an ideal solution for PET bottle packages. Even though, on specific cases, a small amount of stretch wrap might still be needed to prevent dust from getting into contact with the final product, important savings come from eliminating the use of intermediate carton liners between the layers of stacked bottles.
Valco Melton's EC Series and NC Series standard hot melt units offer a very easy configuration to adapt the system to any production line requirement. Both units might be equipped with an integrated adhesive autofeed system for safer operations. Additionally, EC Series units feature an integrated pattern control, directly accessible from its intuitive control panel.
Complete the configuration with MKF Series Insulated hot melt applicators or MZ Series Spray hot melt guns. Both suitable for high speed lines, they easily adapt to any machine structure, guaranteeing a clean end-of-line packaging.
Guaranteeing zero-defects with visual and thermal inspection for end-of-line packaging
To complement our extensive range of hot melt dispensing solutions for the packaging industry, Valco Melton's ClearVision brand of vision inspection systems has developed a camera inspection system to guarantee manufacturers the delivery of 100% defect-free packages.
PackChek camera inspection system analyzes thermal and visual images of every package to ensure proper hot melt application in real-time and at the highest speed.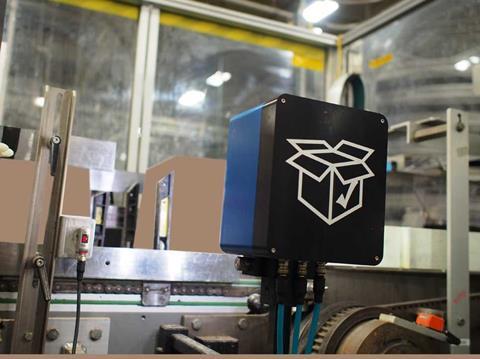 As opposed to traditional glue sensors that look directly at the adhesive pattern, PackChek inspects the entire case, after the flaps are closed, to ensure correct hot melt placement, compression, and case integrity. It has been designed to catch three main types of defects: missing glue beads, weak glue beads, and out of position glue beads.
When one bead, or a combination of beads, does not meet a requirement (predetermined tolerance levels configured by the user), outputs can be configured to stop the machine, eject a case, or sound an alarm.
This real-time feedback makes it easier to identify and correct issues as soon as they arise, putting manufacturers in control of the quality of their product, before it has the chance to leave the doors.
PackChek logs and archives data in real-time, including defective images and past jobs, which can be recalled at a later time. This allows companies to gain insight into their processes and to identify problems or areas of improvement, making it an asset for larger company strategies to optimize packaging processes.
All your gluing and quality assurance needs covered by one global supplier
For any other packaging machine requirements, Valco Melton has a wide range of pneumatic applicators, standard or melt on-demand hot melt units, hoses, spare parts, and different accessories and upgrade options to make the manufacturer's job easier.
Get in-depth information about our latest solutions for the industry and the support and service Valco Melton offers worldwide by visiting our virtual packaging booth: https://www2.valcomelton.com/learn-more-at-our-virtual-stand