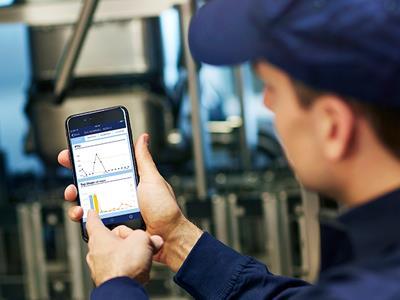 Food safety is the number one concern of food and beverage manufacturers. Mitigating the risk of product faults that can hamper food safety is hugely important. The digitalisation of tools and services has an important role to play in managing these risks. The term digitalisation is broad, and has fast become an industry 'buzzword', but we're now seeing it mature into real, usable solutions for food and beverage manufacturers to mitigate against food safety risks and help drive their businesses forward - writes Alex Bromage, food safety & quality services business manager in an exclusive for Packaging Europe.
Business interruption, product disposal and retailer reimbursement are the main food safety risk areas. Digitalisation is helping manufacturers manage these risks more effectively with a range of tools aimed at improving communications between employees and support teams, and improving access to data and analytics. This means that if food safety issues arise they can be resolved quickly and effectively without impacting production performance.
Virtual technologies
Virtual technologies are becoming increasingly important for food and beverage manufacturers, because they improve connectivity and communications between the workforce and enable real-time support to respond to safety risks.
The HoloLens is a perfect example of how connectivity is transforming workforce communication. In the past, onsite engineers have had to connect with specialists via phone or email to resolve issues. This can cost time and money. Using the HoloLens Augmented Reality (AR) technology, Tetra Pak can now virtually connect the onsite engineer to the specialist via Skype for Business, where they can communicate in real time. This game changing technology enables the specialist to see and hear everything that the engineer is experiencing on site, allowing them to work together to find solutions and respond with speed to prevent or resolve any errors that might risk the safety and quality of the production line.
Digitalisation is also having transformational impacts on the way that staff in the industry are being trained to operate machinery, which has direct implications on improving mitigating food safety risks. Traditionally, training courses and machine demonstrations have been carried out over a set time, in classrooms or at site demonstrations. Tetra Pak has invested in Virtual Training which enables machine operators to be trained on equipment in virtual environments. With Virtual Training, trainees can operate the machine virtually though a simulator, with constant access to support throughout the learning process. This enables a more interactive experience for operators, without the need to spend time travelling to a training location. Enhanced training for our customers' workforce has had positive, direct implications on the quality and safety of the production process and environment, and a proven reduction in the number of errors incurred by staff. This is ensuring that the product is controlled by best in class operators.
Advanced Data Analytics
Advanced analytics (Big Data) is an exciting part of digitalisation that is delivering improved machine performance management to maximise food and packaging safety and quality. Today's cloud computing architecture is enabling the analysis of large amounts of data to help manufacturers make important business decisions, reduce maintenance, and mitigate against risks that could jeopardise food safety.
Tetra Pak's Condition Monitoring application is a cloud infrastructure, supported by Microsoft, that applies a sensor ray to the server motors (precise electrical motors) on our customers filling machines. These sensors control the machine's core functions, many of which have direct implications for the safety of the food and the quality of the package in production. Using sophisticated algorithms, the sensors send data back through the cloud to Tetra Pak's performance management centre for analysis where, recommendations on productivity improvements can be made, and unscheduled downtime can be eliminated. Condition Monitoring enables us to track machine performance for our customers and predict potential issues before they arise, meaning that we can manage risks to food safety in the production process.
At the core of everything we do at Tetra Pak is our vision to make food safe and available, everywhere. The Tetra Pak digital strategy, and digitalisation tools, some examples of which we've discussed here, are making a difference to our customers' daily operations. Digitalisation is transforming the way that food and beverage manufacturers are operating and changing how we work with our customers to create new opportunities, whether it's leveraging global data from thousands of lines, connecting our field force with equipment or giving our customers faster direct access to our expertise. It's playing a crucial role in protecting manufacturers from errors which could jeopardise food safety and, ultimately, the relationship with the end consumer. At Tetra Pak, we expect this trend to continue and will be working to develop and introduce solutions and tools that support our customers in the management of food safety and contribute to improved overall production performance.