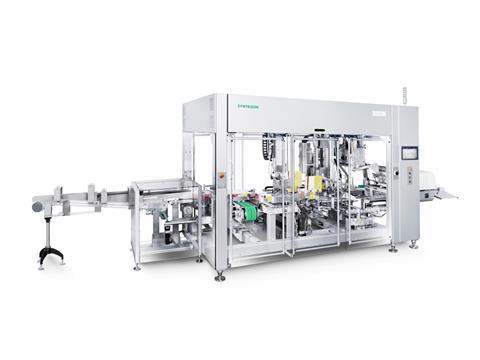 Flexibility and sustainability go hand in hand
The Elematic 2001 WAH case packer stands out for its efficient use of packaging materials, including the ability to work with bent blanks in particular. The machine has been developed with a view to offering maximum pack style flexibility: it can now handle up to 100 different case designs, from simple trays to complex shelf-ready tray and hood cases on one machine with a speed of up to 40 cases per minute. "Be it trays, trays with a hood, full wrap-around cases or ledge trays – the Elematic 2001 WAH offers our customers a solution that not only covers a wide variety of pack styles but also enhances the sustainability of their products. The Elematic click system enables quick, easy and reliable format changeovers for perfect results from the first case onwards," Bernhard Vaihinger, product manager at Syntegon Technology in Remshalden, Germany, reports.
True to their mission to offer sustainable solutions for everyone, Syntegon Technology can now run corrugated board made from grass fibre on the Elematic 2001 WAH case packer. The machine can handle solid board and corrugated board of any quality as well as a combination of different packaging materials for trays and hoods. What is more, Syntegon Technology partners with packaging material suppliers of all kinds to test the machine runability of sustainable materials without compromising on speed and quality.
To find out more about Syntegon Technology's sustainable packaging system for powder applications, please visit the virtual show from May 7 to 13, 2020.