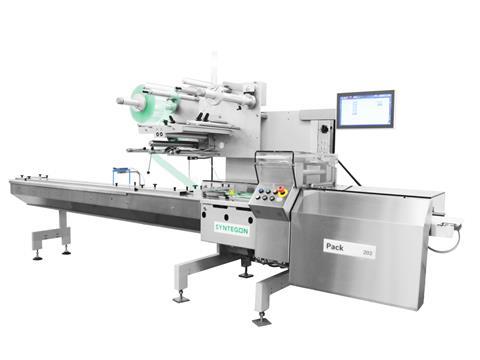 Syntegon Technology has launched the next generation of flow wrapper ­– the Pack 202.
As the successor to the Pack 201, the new solution is a fully automated horizontal flow wrapping machine for low to medium speeds. It is suitable for bars, bakery products, cookies, and crackers, as well as non-food applications.
The machine is a heat-sealing flow wrapper and supports styles such as pillow, gusseted, and easy-to-open packs.
With the Pack 202, Syntegon says that manufacturers benefit from a number of technological advances that were first introduced on the Pack 403 last year, including an easily removable discharge belt, upgrades to the cross-seal and fin seal units, and a highly intuitive, user-centered design.
"Our new flow wrapper for small to mid-sized manufacturers certainly packs a punch: We were able to integrate some of the features of our Pack 403 for medium to high-speed applications into the new Pack 202. The machine is easy to operate, clean and maintain, which reduces downtime and maximizes overall equipment effectiveness," says Christiaan Mulder, product manager at Syntegon in Schiedam, Netherlands.
The Pack 202 can wrap individual or grouped products including bakery goods, bars, fresh and frozen products, confectionery, snacks, medical products, prepared foods, household goods, and other food and non-food items.
It profits from a number of cross- and fin-seal improvements that were first introduced on the Pack 403 flow wrapping machine last year. The finwheel modules have been synchronized and the Pack 202 now features an improved canting mechanism: At the turn of a knob, operators can tilt the fin modules and adjust them for more consistent seals.
Syntegon also reports that the cross-seal unit on the Pack 202 has been improved significantly: "The standard double-spring kit offers more consistent and stable seals than previous models, while the adjustment resolution has been doubled, thus enabling more precise and repeatable crimper adjustments."
A number of features on the Pack 403 have been integrated into the Pack 202 with the aim of improving user experience. Sequentially numbered film rollers facilitate film threading for repeatable, consistent changeovers and minimize downtime caused by "trial-and-error" adjustments. The flow wrapper also comprises an optional automatic film splicer with laser-etched instructions on the deckplate to secure fast and smooth film changes without having to stop the machine.